KOTA KINABALU: Visiting new places and experiencing fresh territories can be exhilarating. This is one of the reasons why people travel to other parts of the world; to be enchanted and be captivated by the sites and sights of other places other than their own.
Blown away was the expression of a tour leader to a group of Serbians who visited Sabah, recently. Bojan Maric who brought group of 18 tourists from his country said they enjoyed every minute of their visit.
His group comprised of mountaineers and avid sightseers. They had travelled the distance to sight see in this part of the world with him as he had visited the State before and thought it worth a second visit.
He had visited this part of the world five years before and liked what he saw and experienced.
"I especially loved visiting Mount Kinabalu and the National Parks, the Kinabatangan River to look at the Proboscis Monkey and of course Sepilok to look at the OranUtans," he shared, adding that with knowledge garnered during his previous visit, he was confident with the role of tour guide when he brought his group into this part of the world.
"As soon as we stepped into the Palace Hotel Kinabalu, we loved it. We are impressed with the warmth and friendliness that they showed us. They were so welcoming," he shared during a farewell dinner at the hotel.
He added that this positive beginning augured well with the group as there was never a time when they had cause to complain.
While they were here, they visit the various sites in the State including Mari Mari Cultural Village and the Kinabalu Parks, they enjoyed white water rafting and the tranquility of the island, among others.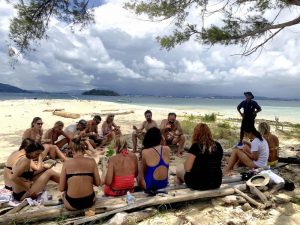 "We wanted to go to Manukan or Sapi initially, but we were told that those places were crowded with tourists and they recommended Sulug instead. It was a lovely sojourn, and we enjoyed the privacy and the clear blue water there," he said.
The group also climbed Mt Kinabalu, the highest mountain in Malaysia at 4,095 metres high. They climbed well, being mountaineers, although some did experience a little discomfort. They however enjoyed this adventure tremendously.
They did not only enjoy nature during their visit but the local cuisines as well. They enjoyed the different taste, Bojan shared, although some of the food was a tad spicy.
Memorable food and beverage experience was of course part of their visit here and as such would be great memories for them when they return to their home country.
Serbia is so far away that one wonders about their journey. Serbia is located in southeastern Europe near the Adriatic Sea. It is surrounded by other countries such as Bosnia and Herzegovina, Croatia, Romania and Bulgaria among others.
Bojan said there was no problem about connectivity as there were good airline routes nowadays. He said they would come back again one day to enjoy Sabah.-AV/BNN