One of the main point of interest and motivation for travellers to choose their destinations is food. Besides the sights and sites of their host country, the taste of available food is also very important. the trip for most travellers are made memorable by their dining experiences, whether good or bad.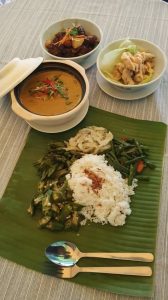 Kota Kinabalu and Sabah as a whole is well known for its good food and the diverse kind of delectable available in eateries, be it street food, eateries or posh restaurants.
The Red Snapper has joined the food and beverage scene in the state capital with the opening of their restaurant at Wei Hing Industrial Centre at Kolombong area, Inanam.
According to its proprietor  Datuk Md Afendi Hamdan, the restaurant was officially launched by Datuk Seri Saifuddin Nasution Ismail, Minister of Domestic Trade and Consumer Affairs, and opened its doors a couple of days ago.
Their main focus is fusion food, mostly Nyonya fusion. The menu list includes the famous Nyonya Fish Head Curry,  their signature dish, Braised fish head in claypot and Snapper Fillet Asam Pedas. Besides that they also serve pan-fried Snapper fillet in special sauce and  Steamed Snapper fillet in light soy.
Besides those offerings, they also serve Ayam ponteh and Banana Leaf set as well as noodles. The recommended desserts are Durian cendol and Durian slush. They also offer hot and cold beverages.
Afendi said their menu list is quite short at the moment, but most of the food offered are those that are coveted by food connoisseurs of such dishes.
Their selling point is the freshness of the seafood, with fish and soft shell crabs sourced from Sandakan. Diners who wished to purchase raw fish and crabs to cook at home can make their purchase at the restaurant.
On the outlet, he said, "We can accomodate 60 people at any one time. We are open from 10am to 10pm."
The Red Snapper is worth spending more time and money on due to its food and casual dining ambiance. There are good elbow room here between tables, which makes for comfortable dining.-AV/BNN