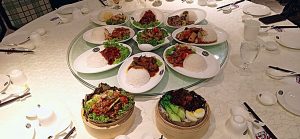 The Super 7 Restaurant, Jalan Bundusan is inviting diners from in and around the area to come for lunch there. The restaurant is air-conditioned, comfortable and cosy, so diners could do well to take their lunch break here. Lunch period here is from 11am to 3pm, from December onward.
Diners have a choice of many dishes with rice starting with mixed vegetables and bean curd rice, char siew pork rice, curry chicken rice, ginger onion beef rice, sweet and sour pork rice, chicken chop rice, BBQ lamb rice, and steamed chicken rice in lotus leaf basket.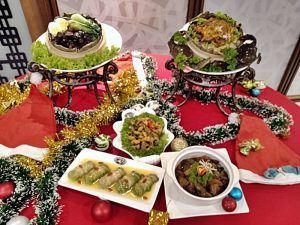 Or they can order the orange sauce fish fillet rice or BBQ pork chop rice and steamed pork with prawn pasta rice in lotus leaf basket. The array of food can be mind-boggling.
For the month of December in conjunction with Christmas, they offer  special dishes such as hot and spicy crab on fried rice in lotus leaf basket, superior jade rolls, golden salted egg eels, braised pork belly rice in lotus leaf basket and stewed pork knuckle with ginger.
If you are coming in a group, they can easily accommodate up 200 people. You may want to speak to the restaurant
management if you want to book the place for your own private function. There is also a private room which can accomodate up to three tables with 30 seats.
Super 7 Restaurant is non-halal all-day dining Chinese restaurant.  The Head Chef  is Chef Wong Chee Vui who has commendable experience in his field.
For more details and booking inquiry, please contact 088 722888/728988 or contact HOTLINE 011-26258898. -av/BNN