HANGZHOU, CHINA: Malaysia must step up efforts to better capitalise on China's dynamic "One Belt One Road" (Belt and Road) initiative, so as not to be left behind other countries in the region, said Tan Sri T.C Goh, president of The Federation of Chinese Associations Malaysia (Huazong).
He acknowledged that Malaysia and China are 'strategic partners' in the Belt and Road initiative spearheaded by president Xi Jinping, which aims chiefly to forge a greater trade cooperation with nations situated along the belt/road, towards achieving a mutually beneficial 'win-win' situation.
"Following the change of government in Malaysia, bilateral ties and trade between the Malaysia and China under the stewardship of Pakatan Harapan government should only get better," he said.
He however observed that currently Malaysia is facing a tough competition in the global free trade market, especially from the neighbouring ASEAN countries which are more aggressive.
He cited for example, in the last two years, Vietnam has overtaken Malaysia as China's largest trading partner in ASEAN. Prior to this, Malaysia was China's largest trading partner in ASEAN for eight consecutive years, with bilateral trade volume between Malaysia and China making up a quarter of China's total trade volume in ASEAN.
"The other example is the decline in China tourist arrivals where, in last year, Malaysia which used to be the top 10 favourite countries for China tourists, had fallen behind Thailand, Japan, Vietnam, Singapore and Indonesia. Of the said five nations, four are members of ASEAN.
"In recent years, Thailand has recorded 10 million tourist arrivals from China, while Malaysia recorded less than 3 million Chinese tourist arrivals in the last two years," he pointed out.
Goh thus hoped that Malaysian businesses, the tour operators especially, will take full advantage of the "2020 Malaysia-China Cultural Tourism Year", and to work closely with their China counterparts towards achieving 4 million tourist arrivals.
He said this while leading the Huazong delegation to participate in the 11th World Chinese Economic Forum (WCEF) held here, from December 11 – 12. The forum themed "Realising the Vision of Shared Development for a Better World" attracted around 1,000 entrepreneurs, political leaders, and Chinese organisation leaders from various countries.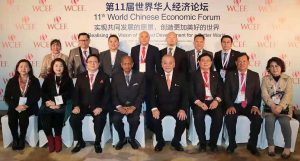 The Huazong delegation comprised of its vice president Dato Lam Kuang Yau, treasurer-general Tan Sri Tan Kean Soon, committee member Dato Sri San Chin Choon, Central Committee members Datuk Dr Hoo Ch'ng Pow, Dato' Jeffrey Ng Chin Heng, Ong Thien Kien, David Chan Chun Keat.
Goh also acknowledged that unlike the United States of America which adopts a 'protectionist' trade policy, China is vigorously promoting an open-and-free global trade, which is very much in sync with the open-market policy practised by Malaysia all these while.
He was also convinced that with China's steady rise as the world number one trading nation, and the establishment of the Asian Infrastructure Investment Bank (AIIB), more nations will be supporting and participating in China's Belt and Road initiative, especially in the fields of infrastructure development, digital economy and manufacturing, technology and e-commerce, etc.
"Looking at the whole picture, we firmly believe China will be the locomotive of the global economy in the near future. Since the 2008 global financial crisis, China has undoubtedly made significant contributions to global economy, at the same time attaining rapid and peaceful rise as a global economic power," he said.
He thus reiterated that Malaysia must not be lagging behind the other nations and ought to step up efforts to seize whatever opportunities that are available under this trend.-pr/BNN