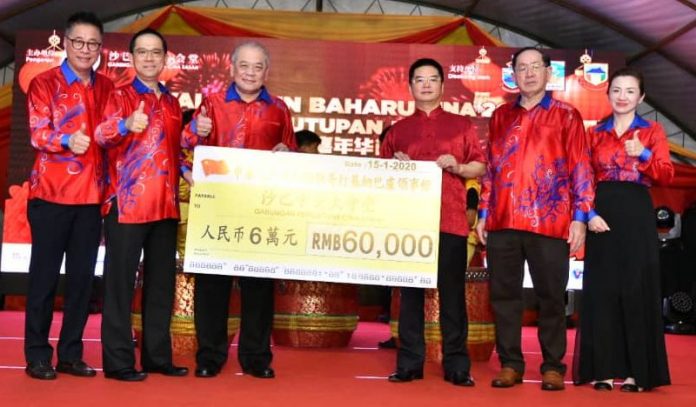 KOTA KINABALU: The Federation of Chinese Associations Malaysia (Huazong) has urged both the Federal and State governments to minimise political conflict and to focus on bringing developments to Sabah, after the Kimanis by-election.
"It is important that after the peaceful-and-democratic by-election, political situation in the country, Sabah in particular, must return to calm and peace, so that the people could continue to live in harmony and the nation could continue to progress and prosper. This is the unique feature of our country, Sabah included, and we must always preserve it for generations to come," said its president Tan Sri T.C Goh.
Goh who is also president of the Federation of Chinese Associations Sabah (FCAS) urged this while speaking at the closing ceremony for its 2020 Chinese New Year Carnival at Gaya Street here, on Wednesday. The said occasion was officiated at by Liang Caide, the Consul General of the People's Republic of China in Kota Kinabalu. Liang also handed over the sponsorship of RMB60,000 in aid of the organising of the event, to Goh. Also in attendance were FCAS deputy president, Datuk Jimmy Yong, vice president cum organising chairman Fung Chun Fatt, vice president Datuk Dr Chua Soon Ping, and vice president cum Women chief, Sherley Wong.
Besides hoping that the Kimanis by-election scheduled on this Saturday 18 January will be a smooth and peaceful one, Goh also congratulated the winning candidate in advance.
He reiterated that both Federal and State leaderships must be seen to be serious and committed to bring about real developments to the state.
"The government must enhance its overall administration and delivery system, introduce new and innovative ideas, technology and knowledge, so as to create a conducive and vibrant investment climate to rejuvenate and boost our economy.
"Together, we must all strive for a vibrant economy, greater productivity in order for our nation to prosper and to become stronger. This is the 'Malaysian Dignity' that we all should strive for as a nation!" he stressed.
Goh further stressed that government leaders and politicians must always adopt the enduring principle of "One who wins the people's heart gets to rule the world", and to ensure moderation, harmony and mutual respect in upholding the agreement of the nation's formation.
Besides this, he also expressed utmost gratitude to the Consulate General of the People's Republic of China in Kota Kinabalu, for its generous supports to FCAS' activities like the annual Chinese New Year Carnival and the international dragon boat race, all these years.
"We in FCAS are truly grateful to the support given to us by the leadership of Consulate General of the People's Republic of China in Kota Kinabalu, all these years. It's indeed a great encouragement for us in our continuous struggle to preserve and to promote Chinese culture and tradition in Malaysia, and Sabah in particular," he concluded.-pr/BNN