KOTA KINABALU: The close relationship between Sabah and China is strong despite the outbreak of the novel coronavirus (2019-nCoV) in Wuhan.
Sabah Chinese Chamber of Commerce (SCCC) Chairman Datuk Frankie Liew said the coronavirus has impacted tourism into the State.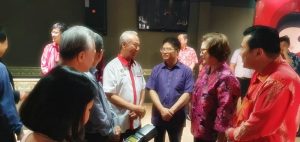 Speaking during a Chinese New Year celebration organised by SCCC and held at a leading restaurant today, he said the Sabah tourism industry, was highly dependent on Chinese tourists and as such he expressed his hopes that the virus would be contained soon.
" China has gone through numerous challenges and weathered difficult times safely, such as fighting floods in 1998, fighting against SARS in 2003, and responding to the Wenchuan earthquake in 2008," he said adding that China had persevered through those tough times.
He said China was not alone in the fight against coronavirus as the international community had shown its solidarity and concern as well as extended a warm helping hand to provide China with material and medical technical support.
SCCC  maintained a high degree of attention to "new crown pneumonia" and was concerned about the epidemic situation in China, he said adding that their members including directors  have been purchasing  masks to send to China in respond to the needs of relatives and friends.
"Last week, our Secretary General purchased the items to send to China.  Due to the limited supply of local masks, we also advised our Chinese friends to collect masks from West Malaysia," he said.
He later thanked  His Excellency Liang Caide, Consul General of China for Sabah,  SCCC advisory group, YB Datuk Junz Wong and YB Datuk Christina Liew for attending the 2020 Chinese New Year  event organized by the Association. Also present during the event was Tan Sri TC Goh, the President of the Federation  of Chinese Association Sabah.-pr/BNN