Going through an Upside-Down House is like peeking into an alternate reality, where nothing is quite like the way we perceive life every day. There is a certain chaos that makes us ask if there is anything beyond what our eyes can see. Some people may feel a little disoriented but most find it fascinating and mesmerising.
One such house in Sabah is sited at Mile 21, along the road to Tamparuli and Ranau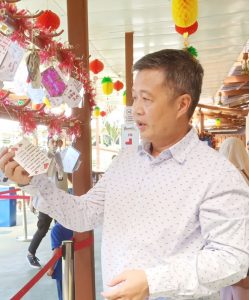 This house lies on its roof on the ground, as if a giant had casually placed it there. When I looked at it for the first time, I had this urge to look down to the roof, imagining how it would look like if it was the right way up.
Walking in is surreal, like walking into some creative space by an artist who placed his subjects everywhere, in an interesting arrangement, that made sense even at its weirdest.
There are rooms within the house, fully furnished; they look like the occupants have just left the rooms for a while. You almost expect them to walk in any minute. There are glasses and plates, chairs and tables, with the usual clutter a family makes; just like an ordinary house. The only difference is they are all up there on the ceiling or perhaps we are walking on the ceiling.
Walking out afterwards, you will see a car on its small shelter, a few gardening utensils around the house and flower pots…and you are right, they are all upside down. You are not allowed to take photographs inside the house though, but you could do that to your hearts content outside the house. It must be mentioned that there is a 3D Wonders Museum outside and a 'market place' where you can take your photos and flip it upside down to get interesting effects.
This house was opened to the public in 2012. It was a rage at that time, people were rushing to see what it was all about, and sharing their opinions over the architecture. The 1,500 square feet upside down house sited on the 1.1-acre land was a great source of fascination. The house was later recognised as the first of its kind in Malaysia at that time by the Malaysian Book of Records.
Proprietor Alexander Yee shares that there are now eight other similar upside-down houses scattered around Malaysia namely in Kuching, Melaka, Penang and Kuala Lumpur with the latest being in Johor Bahru. They need checking out to see if they are anything like the Upside-Down House of Tamparuli, though.
The Upside-Down House is immensely popular nowadays with a constant stream of visitors walking through it. But Yee is not resting on his laurels. He is upgrading the features of the interior of the house by installing 5D features which will include sound, smell and sight. Visitors' experiences will be enhanced with these effects and the upside-down house will cease being a mere house with furniture on the ceiling but an adventure in itself.
For those who wish to visit and enjoy the upside-down house, you may have to wait a little before visiting as they are value adding the site presently as Yee had shared that the renovation will start after the Chinese New Year this month.
More information and updates can be acquired from 088 260 263 or 088 783 911.-BNN