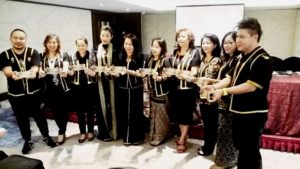 KOTA KINABALU:The winning gown of the Evening Wear Ethnic Concept this year will be displayed in a gallery at the Kadazandusun Cultural Association (KDCA) building.
Chairperson of the Harvest Festival Beauty Pageant Joanna Kitingan said, the event held as part of the pageant is aimed at promoting creativity among local designers.
As such, they want to keep the gown as a memorabilia of the event and part of their future collection as well as to loan future beauty queens, she said.
According to her,  gowns displayed during the presentation of Evening Gown Ethnic Concept are usually worn once as they are not practical for everyday use.
"After the event, the evening gown is usually kept by the designer. It can only be used for competition once. So instead of allowing the gown to be the designer's private keepsake, we want to display it so visitors can view it," she said during a press conference.
She said this will be the first gown to be collected for the gallery and encouraged past winning designers to donate their creative gowns to the gallery as she believed that they can be of tremendous use in showcasing the development of talents among them.
"The gowns can also be viewed by aspiring designers as source of inspiration," she stressed, adding that the name of the designers and the date of entry will be displayed with the gown.
On the winning gowns, she said besides being creative and original, they should also be comfortable and well made, so that the competition participants can wear and model  it well.
"Judges will scrutinise the gowns to see that they are sewed satisfactorily and made appropriately;  no pasted on glitters," she stressed.
"The designs must incorporate the respective district's motifs based on the traditional costumes and accessories. It must be practical and elegant and can be worn with confidence in any event. It must not be too revealing."
The competition for the 'Most Creative Evening Gown based on Ethnic Concept' will be held on May 29 at the KDCA building.
The event will be graced by the KDM Paramount Leader Tan Sri Joseph Pairin Kitingan and his wife, Puan Sri Genevieve Kitingan, as well as the Head of State's Consort Toh Puan Hajah Norliada Tan Sri RM Jasni. –CE/BNN