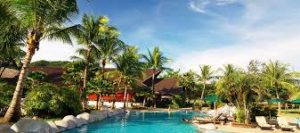 Kota Kinabalu: Sadom Kaewkanjana made light of swirling winds to snatch a two-stroke lead going into the final round of the 115th Malaysian Amateur Open at the Nexus Golf Resort Karambunai, Saturday.
The 18-year-old Thai turned in a near flawless two-under 69 in tough scoring conditions to lead compatriot and 2016 runner-up Witchayanon Chothirungrungrueng (69) with a four-under 209 total.
Sadom, the reigning Philippine Amateur Open champion, rode on his consistent short game as he mixed three birdies with a single bogey to remain the only player to have shot three successive under-par rounds.
Overnight leader Sangchai Kaewcharoen, also of Thailand, stumbled with a five-over 76 to settle for sole third on 215.
The two immediate past champions –­ Lachlan Barker (67) of Australia and Singapore's Marc Ong (71) were among a group of five players a further two strokes adrift in joint fourth.
Any hopes of a local charge on moving day did not materialise as Hui Yong Sherng returned as the best-placed local with a 71 to sit in joint 15th on eight-over 221.
Having helped the Thailand to the team championship on Friday, Sadom now has his sights set on becoming the first player from regional powerhouse to win the championship since Thanyakorn Khrongpha in 2009.
"That felt good. My short game delivered today and I managed to save a couple shots. Made some good birdies coming down the stretch and didn't drop too many shots, which was really good," said the Bangkok-based golfer.
"It's been a grind for every player in the field but my goal was simple: Just keep the ball in play and stay patient.
When faced with more difficult pins, I took a more conservative approach and when I had my shorter irons in hand, I was confident to attack the flag and try to make birdies."
He noted that his birdie on eighth, when he managed to find the green with an audacious approach shot after missing the fairway, was important to get his round going.
"My round had been very quiet to that point. I was pretty confident that I could reach the green despite borrowing the adjoining teebox and I hit a beautiful approach to the front of the pin for a makeable birdie.
It was the kick-start that I needed," added Sadom, who birdied 14 and 17 either side of a dropped shot on 16.
Meanwhile, the best local player after three rounds of competition was Jordan Mobijohn in 35th place with 227 (78-74-75) followed by Albright Chong in 40th spot with 230 (71-77-82), Christopher James in 44th with 231 (76-75-80) and Alexander Lau with 232 (81-76-75) in 46th.
Leading third round scores (Par-71) 209 – Sadom Kaewkanjana (THA) 70-70-69 211 – Witchayanon Chothirungrungrueng (THA) 71-71-69 215 – Sangchai Kaewcharoen (THA) 70-69-76 217 – Marc Ong (SIN) 73-73-71, Sun-Yi Lu (TPE) 73-70-74, Kosuke Hamamoto (THA) 72-71-74, Joshua Ho (SIN) 70-73-74, Lachlan Barker (AUS) 77-73-67, 218 – Yashas Chandra (IND) 71-70-77 219 – Atiruj Winaicharoenchai (THA) 76-77-66, Gregory Foo (SIN) 74-75-70, Naraajie Emerald Ramadhanputra (INA) 74-70-75, Low Wee Jin (SIN) 76-70-73, Anshul Patel (IND) 77-70-72. – GL Oh. SOURCE BY- DE.