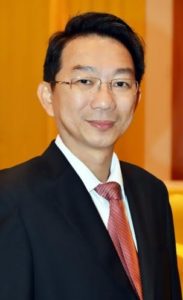 KOTA KINABALU: Liberal Democratic Party (LDP) Secretary General Datuk Yong Wui Chung yesterday chided Parti Keadilan Rakyat (PKR) Sabah chairperson Christina Liew for trying to cover up the opposition party's ultimate goal to implement hudud laws.
He said Liew should not evade the fact that her party president Datuk Seri Dr Wan Azizah Wan Ismail had made a statement saying that PKR would not rule out the possibility to implement hudud laws once the Opposition captured Putrajaya.
Yong reminded Liew that in Wan Azizah's interview with Al Jazeera on May 12 this year, the latter has admitted that as a Muslim, hudud was something that had to be accepted because it was 'God's laws', and that Pakatan Harapan (PH) would implement hudud laws if they formed the government.
"Does Liew know about Wan Azizah's interview with Al Jazeera? Or does Wan Azizah and Liew have differing opinions in this issue?"
Yong urged Liew to clarify PKR's stand on hudud laws before claiming he had wrongly accused the party.
Besides, Yong said he did not mention about Syariah Courts (Criminal Jurisdiction) Act 1965 (Act 355) in his statement released on May 13, contrary to what Liew claimed.
"If PKR does not support hudud laws as Liew asserted, I urge her to pressure Wan Azizah to retract her statement on hudud laws in her interview with Al Jazeera.
"After all, my statement on May 13 was to rebuke Wan Azizah's statement to implement hudud laws in the country," he said.
On another note, Yong said PKR did not have a unanimous stand on Act 355.
He pointed out that PKR vice president Tian Chua has stated that he was not against Act 355 in January this year, while the party's secretary-general Datuk Saifuddin Nasution Ismail has also declared that PKR did not oppose to the Bill back in April this year.
"The people are seeing that some PKR leaders like Liew are protesting against Act 355 in the media while on the other hand, some party leaders support the Bill.
"These confusing, ambiguous statements show that PKR's stand is fickle and ever changing to suit its political interests."
He also asked Liew as to why PKR was still working with PAS in the Selangor government despite her claim that PKR has cut ties with PAS, and that Wan Azizah had ordered all PKR leaders to resign from their government posts in Kelantan.
"Liew said Selangor Menteri Besar Datuk Seri Azmin Ali has his own reasons for keeping the three PAS excos, perhaps to maintain stability.
"If so how would Liew describe the existing ties between PKR and PAS?"-MW/BNN