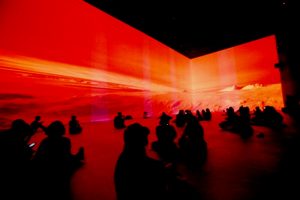 BEIJING, China: Today Art Museum, one of the city's cultural landmarks, has drawn an influx of visitors recently who are going for an ongoing new media exhibition that provides an interactive, enthralling environment when visiting.
The exhibition, titled ".zip FUTURE RHAPSODY | XIAOMI · FUTURE OF TODAY", addresses how artistic creation will evolve by incorporating digital technologies, and how art museums can better engage the audience with location-specific experiences, since more people today enjoy virtual visits via museums' websites and apps. The exhibition runs through till Sept 16.
".zip FUTURE RHAPSODY | XIAOMI · FUTURE OF TODAY" occupies three floors of Today Art's main building, seated in the heart of Beijing's central business district. On show are 27 videos, installations and works of sound art created by an international lineup from China, the United States, Britain and Turkey.
Featured artists include Claude Leveque of France, Catherine Chalmers and Charles Lindsay of the US and Refik Anadol of Turkey.
Shown Chinese artists include Feng Mengbo, Guo Ruiwen, Hong Qile and Wang Zhipeng, among others who are of a great influence in new media creation at home.
At the heart of the exhibition is a 14-meter-high encircled space at the museum's main hall. It was built to function as "a box of black and white", according to Wu Juehui, who co-curates the exhibition with Yan Yan, the deputy director of Today Art Museum. Wu is an artist himself, based in Hangzhou, in eastern China's Zhejiang province – his work is shown.
Nine videos are displayed in rotation and computer-generated images are projected onto two walls and the ground. People can relax by sitting on the ground or leaning against the walls, being surrounded by the moving images.
By doing so, Wu the curator says, the audience themselves become a part of the art, and together with the videos, they form the largest and the centerpiece work of the exhibition.
The immersive, dream-like experience is similar to other works on show – artists hope to inspire people to reflect on real life situations, for example where people have found it hard to live without technology and the internet, especially devices such as the mobile phone.
Shown artworks feature almost all the digital file formats that have been invented, such as .txt, .jpg, .gif, .mp3, to name a few. Therefore, the exhibition serves just like a zip file to compress all these files into a package and present it to the audience. As they come across each artwork on show, people "unzip" one file after another.
Wu the curator says besides creating eye-catching effects which has drawn a lot of photo taking, they also invite the audience to seriously think about the relationship between human society and technology: "Every person lives with certain formats they are familiar with, and they have reshaped how people think and act and the ways of existence."-PRNewswire/BNN