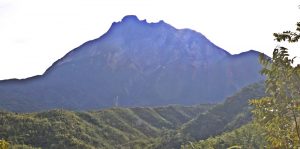 KOTA KINABALU: Defending men champion Safrey Sumping are among the  129 runners from around the world that have confirmed their participation for the 30th Mount Kinabalu International Climbathon 2017.
The gruelling race will be held on Oct 15, at Kinabalu Park, Kundasang, announced Assistant Tourism, Culture and Environment Minister Datuk Pang Yuk Ming during a press conference at his ministry office at Wisma Tun Fuad here recently.
Safrey from Kampung Himbaan, Bundu Tuhan could be the best bet for Sabah to deliver the ultimate prize as he is among the 105 elite men runners in the fray this time around.
The 34-year-old mountain guide is a seasoned competitor and know the trial like the back of his hand will once again try to make Sabah proud.
2013 champion Daved Simpat, 35, is set to make a come back with a vengeance after a dissapointing outing last year.
The pint-sized runner from Kota Belud who finished second place in 2014 said: "I couldn't finish my run in Climbathon 2016 due to injury. But, I am looking forward to race with all the top runners from around the world."
And there will be 24 elite women competing in the punishing race, however, so far there is no news if defending champion Sandi Catlona Abahan from the Philippines is coming.
Besides the locals, the other runners are from Australia, Bangladesh, Brunei, Costa Rica, Czech Republic, Denmark, France, Germany, Great Britain, Hong Kong, Japan, Kenya, the Philippines, Singapore, South Africa, Spain, Thailand, United States and Malaysia.
 "Some 30 newcomers will be making the challenge this time around," said Pang who is the organising chairman.
The race to the summit of Mount Kinabalu (4,095.2m) will be flagged off at Kinabalu Park and back again to the finish line covering a distance of 26km, said Pang.
"The runners will be racing on a higher elevation as Sabah Parks have opened a new route (Ranau trail) since 2016, offering more challenging and breathtaking view," said Pang.
The race is opened to qualified runners recommended by their national federation or have finished the race within the stipulated cut off time of the previous years' Climbathon, he said.
Also in place are several water and aid stations along the route, as well as the turning points for the runners at Panalaban and Aki View Point in case of bad weather, he said.
The contingent plan is a measure taken to make sure the safety of the runners are not comprised as last year, the runners braved the bad weather, he said.
He added the unforeseen circumstance had impacted the runners' finishing time and their placing in the world record.
The public are invited to witness this annual sporting event dubbed the World's Toughest Mountain Race and cheer the runners at the finishing line at Kinabalu Park, he called.
The climbathon is supported by the Ministry of Tourism, Culture and Environment Sabah and The Board of Trustees of Sabah Parks.
The event is sponsored by Sutera Sanctuary Lodges (official accommodation), K2 (official mineral water), Tritonic (official isotonic drink), and Borneo Excursion Adventure (official tour operator).-pr/BNN