KOTA KINABALU:: In conjunction with the World Hospice, members of the Palliative Care Association of Kota Kinabalu organised activities with the aim to create awareness to ensure that those who are sufferings are not left behind.
World Hospice is the global day of action for hospice and palliative care. It is an opportunity to raise awareness to support and develop hospice and palliative care services around the world and it takes place on the second Saturday of October every year and  this year it falls on 14 th October 2017.
The theme for Hospice Day for 2017 is Universal Health Coverage and Palliative Care: Don't
leave those suffering behind!
'The celebration of this special day isorganised in a small scale and in collaboration with the staff of Palliative Care Unit of QueenElizabeth to illustrates the close working relation of a NGO together with a government hospital in providing seamless care,"  Association President, Matron Morna Chua Limus said.
The association is also seeking consistent support in funding from generous donors to ensure the smooth running of their services to the community. It is most important to know that with appropriate care, suffering can be alleviated. Today patients/families understand that even with life limiting illness they can still be cared for in their own surroundings under the homecare program that PCAKK is providing at no cost.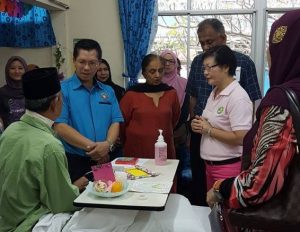 Morna further elaborated, "Since our patients' conditions are unpredictable and
celebrating with them would be more meaningful, thus we chose PCU QEH as our venue and we thank the Hospital Director for welcoming us to do so."
PCAKK's coverage is 30 km radius of Hospital Queen Elizabeth. PCAKK is also working
with the State medical department in the training program of dormiciliary Palliative Care so
that patients in the rural areas will not be left out.
Being a unified day of action to celebrate and support hospice and palliative care around the world, Morna said "We hope that more people will understand what Palliative Care can offer so that those needing the care will be treated appropriately. There are proven benefits of better quality of life, and even prolonged survival in certain cancers with early hospice or palliative care involvement. Most of the patients are often referred late even in developed countries with majority of patients surviving less than 1 month."
The guest of honour Datuk Joannes Solidau, the Director General of DBKK congratulated the association's effort in caring for those who are suffering.
"I wish to congratulate and salute the Organising Committee, the PCA and all those involved including in the volunteers and medical staff who contributed to the success of today's event," he said.
Among the activities carried out by PCA volunteers in conjunction with the event were Craft
Work with Patients, Colouring of PCA logo by patients, Pedicure and Manicure, Massage,
Haircut and Music entertainment.
Morna expressed the association's appreciation for the support from Syukbah
Wanita Masjid Bandaraya, KK12FM, Mr.Huang Polo Calligrapher, Staff of PCU, QEH and
all the volunteers of PCAKK.
Present at event were Datuk Joannes Solidau, Director General, DBKK, Dr.Heric
Corray, Director of Queen Elizabeth Hospital, Dr. Chewan Ilmiyah, Head of Palliative Care
Unit of Queen Elizabeth Hospital, Matron Morna Chua Limus, President of PCA Kota
Kinabalu, Datin Molly Mathew, Medical Advisor of PCAKK.-pr/BNN