KOTA KINABALU: There are no happier children than those who are excited with great expectations of fun and games.
And in Shangri-la Rasa Ria Resort and Spa Tuaran, about 250 children shouted with joy and laughter during a Sunday morning.
That was the day that the Resort launched its Day in Paradise package with the largest lollipop drop by helicopter in Sabah.
The day started with fifty schoolchildren from SK Lapasan arriving in the morning for competitive games and as the day went they stopped to wait for a helicopter to drop lollipops.
The school under the Rasa Ria's Corporate Social Responsibility Embrace Programme was joined by more than two hundred other children to witness the largest lollipop drop in Sabah from within a designated safety zone.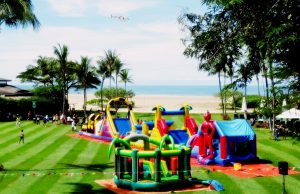 Two thousand lollipops were dropped from the helicopter, and as soon as the heli moved away, there was a surge of happy children scrambling to pick up the lollipops.
Later the children also enjoyed a full fun day of activities by running around in the jumping castle and a variety of games put together by the Recreations team. The lollipop drop was a joint collaboration between the resort and Sabah Air.
For those who want to enjoy a day in Rasa Ria Resort, the Day in Paradise package is available at RM148 nett for adult and RM98 nett for children below 12 years old.
The package includes access to the beach area, day use of the garden wing swimming pool from 10am to 6pm, adult food and beverage credit at RM128 and RM68 nett for children at either Tepi Laut or Oceano restaurant and ice cream from the Ice Monkee bar.

Shangri-La's Rasa Ria Resort has been awarded No 1, for Australia's Top Ten Family Resort 2017 in Malaysia, through a survey carried out by Holidays with Kids, Australia. The just
released list was a result of a reader's survey sent to its online database of 40,000 registered online members and its magazine with a readership of around 600,000 parents. During the survey, members were asked to nominate the best family resort based on criteria includingfacilities and activities for children, the quality of childcare and babysitting services, kids clubs,standard of service and staff hospitality and the standard of accommodation, location, value for money and overall experience.
More information can be acquired from 088 792 888.-av/BNN