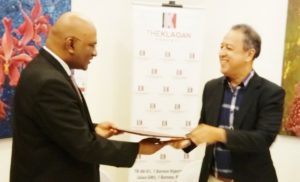 KOTA KINABALU: Interesting destinations and tourism products in the State are being promoted through displays of paintings at The Klagan Regency in 1Borneo.
The large paintings showing artistic expressions by artists of the Proboscis Monkey,Rafflesia flower, Nepenthes and orchids are on display at the hotel and are for sale.
The Klagan Regency General Manager Narendra Sinniah said diners and walk in guests are encouraged to visit the display and make a purchase if they so wished.
According to him, there are about 30 paintings on display at the moment ranging in price from RM500 to RM2000.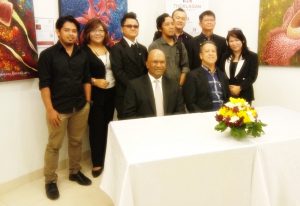 "Proceeds from the purchases will be channeled to a charity organisation. We have a few in view to choose from," he said.
He was speaking to reporters after the signing of a memorandum of collaboration between The Klagan Regency and University College Sabah Foundation (UCSF).
The collaboration includes promotion of local culture through the artwork by lecturers of UCSF, while allowing art work to be part of the hospitality industry through the medium.
Meanwhile, Dr.Mohamad Haleem Mohamad Razi the Vice Chancellor of UCSF said the paintings displayed depicted nature as the university was a green university.
"They will be sited in the hotel for four to six months and then they will be replaced by other paintings. There will be different pictures. We probably will share batik paintings but mostly its according to the hotel's recommendation," he said.
As for the collaboration, he hoped that it  will continue indefinitely as the university was also looking at it from the sales point of view as well as encouraging art appreciation as a whole.
He later toured the art display with Narendra.-BNN