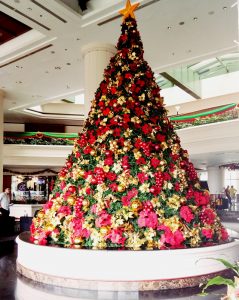 KOTA KINABALU: Anticipating Christmas, Sutera Harbour's properties are all decorated with brilliant lights, festive decorations and Christmas trees. The ambiance throughout the area is all festive with twinkling lights on, all ready for the most wonderful time of the year.
At Pacific Sutera Hotel lobby, a gigantic Christmas tree stands, all dolled up in its many baubles, ribbons and mock gifts decorations. Guests,  mostly joyful children and their parents walk around it, some taking photos of their beloved youngs and others just doing a selfie.
On the other side of the area is a gingerbread house with varieties of cookies and other delicious stuffs.
For those who wants to purchase these delicious offerings, they can opt for the array of goodies such as chocolates, cookies, cakes and bread. Just walk in and ask the gracious staff attending to that area. They are very helpful.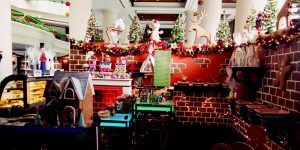 To usher in Christmas, dinner at the Sutera's properties is bound to be delectable and memorable. In the Pan Pacific Sutera, opt for the Café Boleh's buffet dinner or the Breeze Beach Club BBQ buffet dinner. With the menu and the ambiance,  they are indeed value for money.
As for those who wants to dine at The Megallen Sutera Resort, there are three outlet to choose from. Five Sails buffet dinner, Al Fresco, an all-time favourite place with BBQ dinner and Derdinand's set dinner.
At the Marina and Country Club, one can dine at the Marina Café. Its buffet dinner.
On Christmas Day itself, there are buffet Brunch and Dinner at the Café Boleh and Dim Sum Lunch at the Silk Garden.  At the Magellan  there are buffet dinner at both Five Sails and Ferdinand.
For revelers, there are no dearth of varieties at the Sutera, pick one, arrive and enjoy the Christmas Celebrations with good food and ambiance, with your family and friends.-BNN