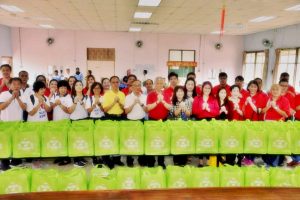 KOTA KINABALU: The Chinese New Year celebration came early for 88 residents of Sri Pritchard Old Folks Home, Kinarut today, courtesy of Dongshun Group and Nuga Best Sdn Bhd.
Datuk Frankie Liew, the Managing Director of Dongshun who is also the Chairman of Nuga Best, visited and presented foodstuff and other items as well as red packet (ang pao) to the old folks living at home.
According to Frankie, the visit was held in conjunction with the coming Chinese New Year and was part of the company's annual activity which had been carried out for more than 20 years.
He said their visit hoped to bring cheer to the elderly during the festive season and ensure that they didn't feel left out of the celebrations.
Meanwhile, Lucina Loijim, the Superintendent of Sri Pritchard Old Folks Home said she was grateful that charitable business establishments such as Dongshun and Nuga Best come to the home to present gifts of essential items to the residents.
She said visits and contributions by generous groups always seemed to come during the festive seasons and this helped to cheer to the residents who ranged in age from 66 to 100 years.
According to her, she also received assistance from individuals in term of minor renovations and repair to the home.
"Our main need is of course shortage of staff; the ratio is one staff to four sickly residents and one staff to 18 healthy residents. Presently we have 41 staff that we rotate through a duty roster," she explained.
The establishment has a capacity of 155 residents and is sited on 28 acres of land, she added.
Also present during the event were the Sri Pritchard Old Folks was Nuga Best Managing Director, Francis Liew.-BNN