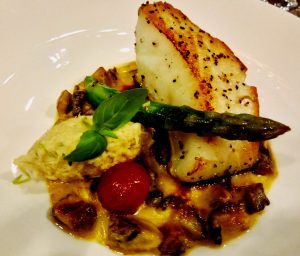 Dining al fresco at Magellan Sutera, Kota Kinabalu is especially pleasant in the evening, especially during fair weather. Diners can enjoy the sounds of incessant waves lapping at the shore, and the sky turning orange and red as the sun sets.
The gentle sea breeze and the sounds of the waves are enough to soothe one's mind and of course this makes for comfortable dining.
On blustery evenings, though, it can be a challenge to dine outside but of course there is also a place indoor to dine in comfortably, sheltered from the elements.
The dining ambiance is pleasant of course.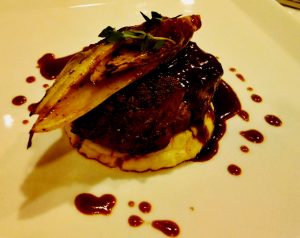 Sometimes though the pleasant ambiance is all there is but at Al Fresco the food is a definite plus.
The food served in this outlet is actually well worth the visit. The dining experience starts at the entrée they call Amuse Bouche. I didn't actually get a translation for this but I believe it meant to tickle the palate, and it did. You just wanted more after sampling this small but satisfying item.
Then come the poached prawns, US Scallops, mussels, octopus edamame, mesculin with romesco sauce.  Again, this is a small portion but enough to be enthusiastic enough due to the variety of seafood in such a compact setting.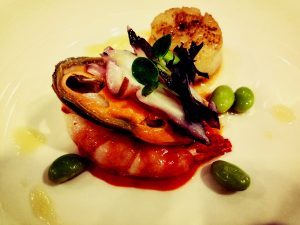 Take a break from the delicious pieces of items with a soup of mushroom with white truffle oil and then move on to the mains.
One has a choice of fish or beef steak. The fish is pan roasted cod fish fillet on gratinated mushroom, asparagus, cherry tomatoes and crab meat quenelle.  The fish is simply delicious and the crab meat is really something to look forward to.
The beef offering is grilled marinated Australian beef tenderloin steak with Belgium Endive, truffle mashed potatoes and beef jus reduction.  It's scrumptious and well worth seconds, if one is so inclined.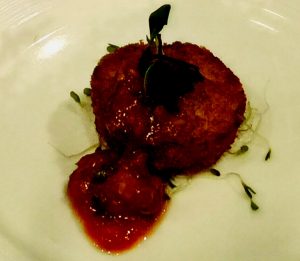 Before getting coffee or tea to top off your meal, don't forget to enjoy their dessert. It is a feature of indulgence…Apple crumbled tart with vanilla ice cream, coconut macaroon and chocolate sauce.
From 6pm to 10.30pm daily, the private cabanas are opened so if you want a romantic dinner get under there and order your five course dinner. There are also a variety of drinks to choose from.
You may be lucky enough and be serenaded by famed stroller, Hinava, with romantic love songs for 15 minutes to complement a romantic night.
You may need to book a day in advance. Get more information from  088-308431.-BNN