The Chinese New Year is upon us and with the celebration of the Year of the Dog, families will gather to commemorate the auspicious event. For those who love home cooking, this will be the time to sample traditional Chinese food prepared by mothers and grandmothers.
However, to treat parents and grandparents to sumptuous dinner without having them slave over the kitchen stove is the in thing and perhaps the most coveted by tired parents and celebrants.
Going for Chinese New Year dinner at  Metropot Bistro and Club, sited at Metro Town Kota Kinabalu may be the best thing to do as they offer dining in a pleasant ambiance.
The establishment which can seat up to 80 people on round tables have come up with a 9-course set menu for Chinese New Year. The offerings come with Fatt Choy Yee sang.
The package includes five hot and cold combinations, which is absolutely scrumptious, followed by double boiled cordyceps chicken soup. This is followed by a delectable double chicken flavor and a steamed dragon-tiger grouper. Now this steamed fish is absolutely delightful, due to its freshness and the chef's culinary expertise.
A Metropot spicy lamb flap comes next followed by braised mushrooms with dried oysters and black moss and long cabbage.  After that the fried rice is served. This rice is the chef's signature dish; a filling rice dish that can be a meal by itself. To end the meal is the dessert, chilled honey dew sago.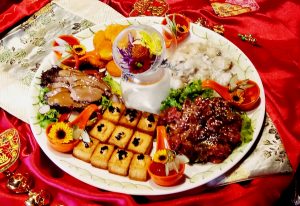 Club Manager Raymond Chong shares the New Year package is now ready for reservation and invites celebrants to call them for reservation.
"We will be setting up round tables for our guests. Although we have a set menu on the Chinese New Year package, our guests can also order side dishes from our ala carte menu. The prices will not be included in the package though," he says.
According to him, they do carter to other functions as well, including birthdays and full moons among others.
"We can cater to themed functions as we will coordinate with event planners," he states adding they should be informed a few days before the function to ensure that the event is well and properly organised.
Call 088 428288 for reservations and information.-BNN