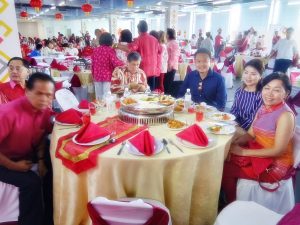 KOTA KINABALU: The massive ITCC Penampang Shopping Mall which was officially launched on August 25 last year celebrated the Chinese New Year on Feb 19, 2018 with an open house. The open house enabled potential tenants and interested members of the business community to view the establishment, while enjoying a festive atmosphere held at the event hall.
Abuzz with guests, family and friends, the management led by its Director Mandela Malakun hosted the event which showcased stage shows with talents including veteran singer Peter Dicky Lee.
Mandela shared that the shopping mall hoped to be a commercial hub in that area where people come to shop, dine and acquire health and beauty services. When all the shops are ready, the general public may be able to enjoy a one stop shopping centre as there will be pharmaceuticals, IT shops, supermarkets and optical shops, among others.
The other customer friendly aspect of the Mall is its easy access for the handicap, handicap parking bays and a chapel. The chapel is available to any denominations; he said adding that church groups who wish to use the chapel for functions or services can notify them.
Churches can actually utilize the Chapel for weddings as it can accommodate about 120 to 130 people at any one time. They can carry out the services there and later move on to the banquet hall or the exhibition centre for the reception.  The centre can accommodate up to 4000 people at any one time, theatre style.  The banquet hall when it's completed in a few months' time can accommodate up to 170 tables, he said.
"We have many bookings from churches of various denominations to use the chapel presently," he stressed adding that they are ready to cater to functions in both the convention hall.
He assured that they have ample parking, at 1800 parking lots including basement, its parameters and the adjacent lot. For the moment parking is free.
"The establishment of the ITCC is to ensure economic spin off for the local community in term of employment not only directly under the company but employment with the hundreds of tenants here, including renovation contractors in setting up the shops. We also want to accord business opportunity. We open up our stalls outside space during special occasions and invite Non-Governmental Organisations (NGOs) to hold their bazaars as well. We sponsor the venue so they can collect funds for their organisations."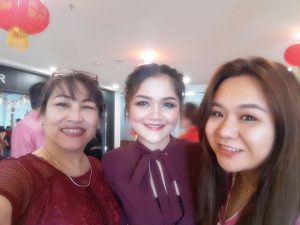 With some 30 outlets operating presently, they are foreseeing more activities soon with the establishment of 140 more tenants, who have already confirmed their bookings. Some are currently renovating and generally getting their outlets ready.
The shopping mall when in full operation will see more than 300 outlets Mandela said adding that there were more than 600 retail outlets all together but some tenants have booked two shop lots for their use.
When completed, there will be a cinema sited there by the end of the year with a seating capacity of 1000 and a four star 330-room hotel which will be completed next year. Those who wish to set up office in the ITCC can also do so after its completion.
On the accessibility of this mall by the general public from the State Capital and other townships Mandela said he knew that a bus route may be established there soon but he was not sure when it would be implemented.  He believed that this will enable people to come to ITCC to shop, work or tend to their shops.
When completely operational, the RM300 million establishment will be a hub for Penampang residents as well as the surrounding area while promoting tourism in the district.  The Kadazandusun Cultural Association Building (KDCA), Kadazan Cultural Association Building (KCA), Sabah Golf & Country Club (SGCC), Lok Kawi Wildlife Park (Lok Kawi Zoo), Monsopiad Cultural Village and various recreational, food and entertainment centres will be attractive sites for tourists who stay in the ITCC Hotel.-BNN