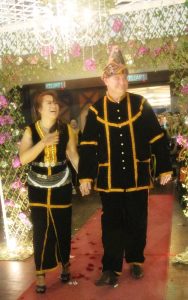 THE Indigenous people of Sabah have a beautiful set of marriage ceremony with rites and rituals since time immemorial.
In those days of pre-arranged marriage and set wedding dowries, it was very important to go through the rituals as it forged a union not only between the bride and groom but also families and villages.
It was necessary  to acquire the goodwill of all as inevitably this would help the couple start a new life together and with help from their respective families, go forward with confidence. Falling back on the family for assistance in the early days of was not thought of as an imposition then but as a norm.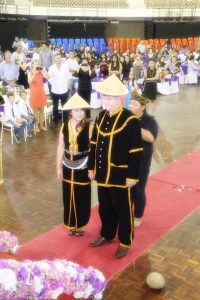 The rituals held during a marriage was very important and was adhered to strictly by members of the community. This was was to ensure that the couple's future would not be marred by unhappy occurrences.
In those days a respected elder led the  wedding ceremony. The first step was to put the 'sirung' or conical hats on both the bride and groom. This signified the union of the two people, and the elder would chant incantations to ensure that the couple would be sheltered from harm.
The couple were then requested to put their foot on a stone, and again the elder would recite that their marriage be as solid as the rock. The third ceremony was the exchange of rice balls, chicken drumstick and a small container of rice wine.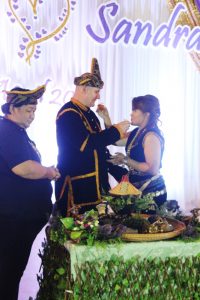 This ceremony signified days of plenty in the years ahead in the couple's life. It must be stressed that the ceremony mentioned here was just a part of the whole ritual and that it varies among some 30 strong ethnic groups under the Kadazandusun umbrella in the State.
In this days and age, it is more fashionable and less fussy to recite one's marriage vow in church or in front of a registrar.
Recently however a couple went through this Kadazan traditional marriage ceremony during their wedding reception, much to the delight of their guests. The enthralled crowd watched as the ritual was carried out, with poems recital by the 'elder'.
The wedding with the traditional flavour was between Sandra Richard William of Kota Kinabalu and Stephen Gates of Adelaide Australia. They had initially made their vows at Stella Maris Church in Tanjung Aru before proceeding to the Sabah Cultural Centre to hold the traditional ritual and wedding reception.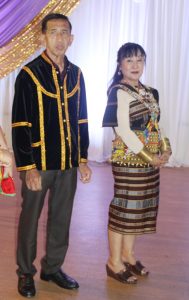 This was an interesting sight as Sandra is of Kadazan, Chinese and Brunei descent and Stephen is Caucasian from Australia. It was indeed a treat for guests who rarely if ever glimpsed parts of an ancient ritual.
With the rituals carried out well, the young couple's future can only be filled with love, good health and prosperity.-BNN