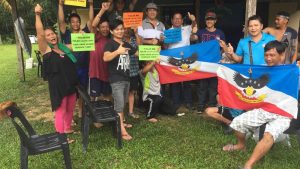 KOTA KINABALU: I am not supporting another party on the sly, Parti Kerjasama Anak Negeri (PAN) candidate for  N13 Inanam Terence Tsen said.
He said he was shocked when he heard rumours that he was supposedly supporting a Barisan Nasional (BN) candidate for the same constituency.
According to him, this was not true and the rumours aimed to unsettle him and erode the confidence of his supporters.
"I appeal to all my supporters and constituents of N13 Inanam as a whole, to ignore these rumours. These rumours are spread by unscrupulous people who have run out of ideas in their campaigns. They are now resorting to this dirty tactics to discredit me," he said.
He stressed that he was not 'friendly' with any BN component party and he would never 'jump' to their side if he won the election.
"I am very encouraged by the support given to me by the people of Inanam. I am not even thinking of other parties or what the respective candidates are doing.  I am very busy focusing on  putting across my pledge and party mission to the people."
Terence is facing five contenders to the State seat mainly Datuk Johny Goh @ Goh Chin Lok of BN, Kenny Chua Teck Ho of PKR, Jakariah Janit of PKS and Situl Mintow Independent and John Stephen Dionysius of SAPP. There are 27,964 registered voters in N13 Inanam.-pr/BNN