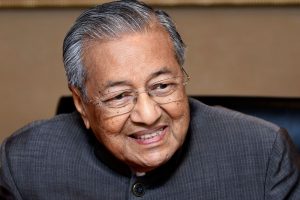 KOTA KINABALU: The Prime Minister Tun Mahathir Mohamad has formed a council called the 'Council of Elders'.
This council comprises of   former finance minister Daim Zainuddin, former Bank Negara governor Zeti Akhtar Aziz, former Petronas president Hasan Merican, tycoon Robert Kuok, and economist Jomo Kwame Sundaram.
This group of people will serve as advisors to the government.
Mahathir has also appointed Tan Sri Muhyiddin Yassin as the Home Minister, Penang Chief Lim Guan Eng of DAP as Finance Minister and Mohamad Sabu as Defence Minister.
Tan Sri Muhyiddin Yassin is the President of Parti Pribumi Bersatu Malaysia (PPBM) who defended his Pagoh parliamentary seat and won the Gambir state seat in Johor.
Mohamad Sabu is a member Parti Amanah Negara and Member of Parliament for Kuala Kedah, Kedah.
It is believed that the Prime Minister will name his other cabinet members soon.-BNN