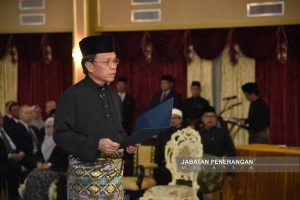 KOTA KINABALU: The new Chief Minister Datuk Seri Mohd Shafie Apdal said the new Sabah Cabinet will be formed soon.
The announcement of the State Cabinet line up will be held in a couple of days he said.
He told reporters who witnessed him clocking in his office at the Sabah State Government Administrative Centre here that the line up would be a 'surprise'.
On Sabah representatives in the Federal Cabinet, he said it was up to the Prime Minister Tun Mahathir Mohamad to decide on the matter.
On another note, he said BN Assemblymen who wished to join Warisan were not subjected to any conditions.-BNN