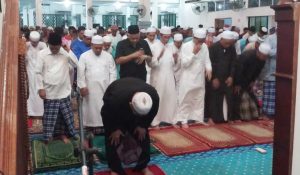 SEMPORNA: Datuk Seri Haji Mohd Shafie Apdal received a thunderous welcome on his return to his constituency Thursday evening, his first since being sworn in as Chief Minister of Sabah.
Shafie landed at the Tawau airport after a 40-minute flight on board AirAsia and was taken in a convoy to his residence at Batu Dua, Kampung Bubul.
He then broke fast with more than 2,000 people from all walks of life at the Ar Rahman Mosque close to the town centre, a mosque officiated by Malaysia's first Prime Minister.
Shafie, Semporna's favourite son,  also performed Maghrib, Isyak and Terawih prayers at the same mosque.
Accompanying him were Manis Buka Mohd Dara, the Bugaya Assemblyperson and Datuk Mohd Azis Jamman, the Member of Parliament for Sepanggar, Parti Warisan Sabah Semporna division committee members and local dignitaries.
Earlier, Datuk Mohd Shafie chaired the first Cabinet meeting at the Sabah State Administrative Centre.
In the afternoon he headed for the Kota Kinabalu International Airport, and made use of the common check-in counter before proceeding to the departure hall.
From the time he got out of his car at KKIA to the departure hall, travellers, airport staff and air crew from MAS, MASWings and Air Asia as well as Malaysia Airport employees stopped to congratulate Datuk Seri Mohd Shafie as well as to take photos with him and his wife, Datin Seri Hajah Shuryani Datuk Shuaib.
Datuk Mohd Shafie later spent time with well-wishers at his residence.-pr/BNN