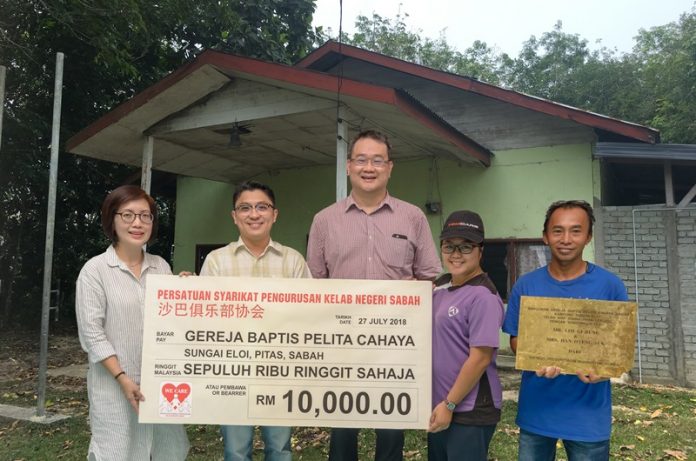 PITAS: Persatuan Syarikat Pengurusan Kelab Negeri Sabah (PSPKNS) donated RM10,000.00 to Gereja Baptis Pelita Cahaya at Kg. Sungai Eloi, Pitas.
The donation was to assist the church's projects such as the building of a motorised boat for impoverished church members to fish. The funds would also go towards the construction of a proper toilet and kitchen for the church's kindergarten.
The cheque presentation to Pastor Arlinah Sintung was carried out by by Madam Monica Chang on behalf of the Persatuan Syarikat Pengurusan Kelab Negeri Sabah.
Also present during the cheque presentation were  Mervin Lu and Yap How Nam, representatives from PSPKNS and chairman of Gereja Baptis Pelita Cahaya Kasim Sarian. PSPKNS also represented the sports and recreations clubs in Sabah.
The Gereja Baptis Pelita Cahaya Pitas was founded by Pastor David Kinuta in 1983. He was also the former president for Gereja Baptis Pelita Cahaya Sabah during the same year.
As non-profit organisation, the church depended on donations from the public and other fund raising activities and awareness. The church new building was built in year 2002, funded by Lim Gi Bung and Han Hyeng Suk of Presbyterian Bukahhyun Church, Korea.
Presently, the villagers at Kg. Sungai Eloi  did not enjoy water supply and depended on rainwater where each house owned at least two to three tanks to collect water when it rained.
The president of Gereja Baptis Pelita Cahaya Pitas  Kassim Sarian hoped to be able to complete all the church's projects as soon as possible especially the boat to help villagers needed it for fishing as additional source of income for their families.
Information on Gereja Baptis Pelita Cahaya Pitas, could be acquired from Kasim Sarian at 010-8043709.-pr/BNN