KOTA KINABALU: Participants of the Koposizon Homestay in Kampung Papaga Papar were urged to promote their homestay further by producing food stuff synonymous with the area.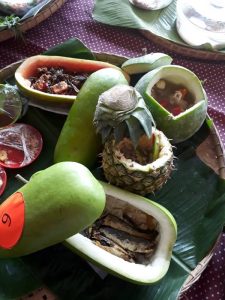 Djuanis Mogirong President of Sabah Homestay Association said having a product produced especially by the Homestay Participants there would augment their income and promote their tourism product further.
"The food fest is very commendable as this promote the village and the homestay but a food product can ensure that they are known everywhere," he said.
According to Djuanis who launched the event, the food fest should also be listed in the Sabah Tourism Board (STB) calendar of events, so that tour operators could promote it as an itinerary.
"I believe this can help promote the homestay tremendously," he said, adding that such an event was also helpful in promoting rapport and friendship among the homestay operators.
The merry making in conjunction with the annual Koposizon Homestay's traditional food fest was a weekend happening.
The general public who thronged to the area came as early as 9am and was joined by tourists from China, who were guests of the homestay operators in the village.
The event held at the Kg Papaga Community Hall by the river was a hub of activities, where homestay participants set up their stalls selling all sorts of traditional food such as Bambangan pickles, traditional cakes, dishes and handicrafts.
There was also a fishing competition that started very early where enthusiasts sat by the river with their line, angling for the largest catch.
Stage events included dance performances and a choir by the Homestay participants and also by the Chinese guests.
A sago dish making competition was the highlight of the day, where several participants showed their skills in making  two of the tastiest sago dish, Pinompo and Hinggazang.
Besides that, there was also a lucky draw.-ce/BNN