Kampung Baba Telupid seems like a new settlement. The terrain is still clay, and in some places the grass is struggling to reclaim its habitat. At one glance, it looks like the people just settled there and eking out a living from nature.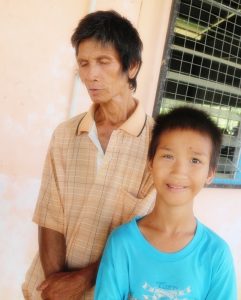 However, it is far from the truth. The people have been there for a while, having migrated from other parts of Sabah, opening up the land for paddy plantations and other catch crops.
It is just that an oil palm plantation, IJM has a plantation there, and in many areas they are still in the planting process. The land has been cut for plantation, and thus the road is just dirt and clay.
The villagers too have planted their own oil palm plantation, usually less than ten acres or according to the space they have.
To most villagers, with their catch crops and oil palm groves, they manage to live in a fairly good manner. They can send their children to school with what little money they can get out of their labour. They have electricity and treated running water, which is a plus for this rather quaint village.
However, their life can improve further if they have more infrastructures.
Jumin Untung,  56, a sustenance farmer who plants hill paddy and other crops, said they need a good road.
"Yes we have a road, but its dirt road and when it rains, it can be difficult for us, especially our children who has to go to school in the next village," he shared.
His son who is in Primary five in SK Ounsuon, three kilometres away, usually hitches a ride with his teacher who live nearby, so he will be able to go to school.
However if there is no transport,  children usually stay home during the rainy days, not only because of the muddy road but also because they cannot cross the river.
"The river has no bridge, so when it rains and it floods, we cannot cross," he shared.
His son, 11- year old Jomiliung quips that he hopes the relevant authority will build a concrete road so that a van can service the area, enabling him to go to school in comfort.
"My sister who is eight years old is too little to walk, so we just depend on the teacher," he shared.
Hendrous Peter, 20, agreed that the road should be asphalted so that vehicles can easily access that area.
This student who is waiting to go to university shared that he too suffered during his childhood to go to school, as he either walked or hitch a ride to class. His family is poor and need to earn something more out of the land than the palm oil, which are all bought by IJM.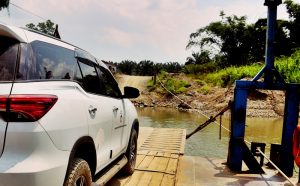 "We want to send out our vegetables and whatever surplus catch crops we have but its not easy for us to bring this out to Telupid to sell due to the road's bad condition."
"Besides we have to cross two main rivers that are impassable when it floods," the middle of five children in the family said.
Besides the road, they also need telephone access to the outside world. Contacting anyone from the village is nigh impossible through phone due to the absence of telecommunication services.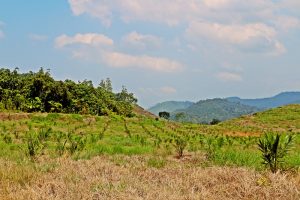 Stoney Makirim, 24, who is a student at UKM shared that without telephone access parents with children working or studying outside the village have a hard time trying to contact their off spring.
"We too cannot access our parents. This is a great worry for both parties, as we don't know the condition of our parents and siblings at home, and neither do they know about our situation."
"When someone get sick they cannot call the ambulance. When someone dies, irs not easy to contact relatives in other part of the State or even the district. We really need telephone access."
Stoney said the road should be asphalted and the rivers need bridges.
The first river one have to cross to go to the village is crossed with a barge. It can accommodate up to four vehicles. A man takes care of the machine and let cars and people across when needed. The second river is actually a pretty wide brook, with a road across just under the water. But when it floods, this river is impassable.
"When someone get sick at night, and the bargeman have gone home, it is not possible to cross the first river. One can be brave and swim across but at a risk because there are crocodiles in that river."
"Sick people have been known to die right at the river bank. Mothers have been known to give birth there too," he shared.
"And thats why we need a clinic here. We need to have nurses and a pharmacy, so we can get access to basic healthcare," he stressed.
"To add on to our problems, now the company charges us RM15 every time we use the road and their facilities. So as we go back and forth we would have to fork out RM30 per vehicle."
On whether their state assemblyman is aware of their plight, they nodded in assent.
"They come here during the campaign and tell us that they will look into our problem. Of course the next time they come the condition is still the same. So they either say there is no allocation or they will say they will look into it seriously," Stoney shared.
Those grouses aside, the rather rustic village is sited just around 16 kilometres from Telupid township. It feels very remote because of the dirt road and the lush foliage around.  It is very peaceful and is reminiscent of an older time where houses are clustered on a gentle hill, free range chicken roams, dogs slumber under trees and children playing around.
This village can be a haven for villagers and visitors alike, except for the road, the lack of good bridge and other basic amenities.-ce/BNN