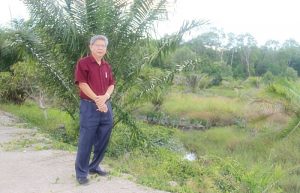 The Labuk Bay Proboscis Monkey Sanctuary in Sandakan is an admirable venture by an Oil Palm Plantation company to ensure that the original inhabitants of the area have a place to stay. Plantations are hardly conducive as a living area for animals, so they have segregated some 260 hectares of land for the animals there to live in.
The inhabitants include the pig-tailed macaque and long-tailed macaque, orang utans and several species of birds and other little animals such as lizards and iguana and of course the Proboscis Monkey.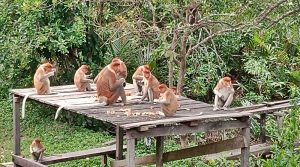 This is a place where you don't need to tiptoe in the jungle hoping to sight a family of these arboreal creatures without disturbing them. In fact, as you move into the sanctuary one can see them chilling on a branch of a tree or casually going from branch to branch. The population of these primates in the designated area is about 300 or more. This number is added on by 10 to 20 young ones a year, so it could be more than that.
Michael Lee Hing Huat, the owner shared that they have about 1000 hectares of Oil Palm Plantation there. They however didn't want to deprive the wildlife there of their Mangrove home, thus the segregation.
According to him, in 1997, after they acquired the land, they set about clearing it. They had engaged several workers to do the job for them. The workers went to work very early but before they left, they kneaded flour to make into pancakes when they returned for their coffee break.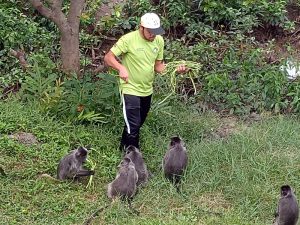 However, they had a shock one day to find out that their dough was missing. They surmised that someone must have stolen it and monitored the situation for a few days. They found out that Proboscis Monkeys had entered the house and stolen the dough.  So, they set up a trap for the primates, which was a success, as they saw the red-haired creature staring at them when next they looked into their trap. They showed the monkey to their boss, Lee's late brother, who was quite amazed with the catch. It was later confirmed that the primate was a Proboscis monkey.
"We realised that the Monkeys encroached into human dwelling as they were finding it hard to find food. The severe drought brought about by El Nino had impacted on their food source badly. To boot it all we had encroached into their natural habitat. They had no choice but to steal food," Lee said adding that this prompt their next decision that resulted into the sanctuary they have today.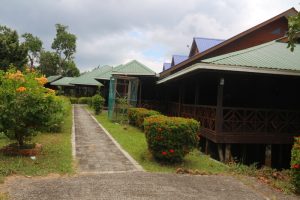 "We decided to leave that area alone for the proboscis monkeys to ensure that they still have their dwelling place even as we developed the land adjacent to this area."
The two workers who caught the monkey was later assigned to specifically look after the primates.
"They went inside the jungle to survey their population and also to construct a five-feet-high platform to feed the monkeys. However, as time goes by, the raised platform was gradually lowered for the convenience of the monkeys and the workers. Soon, the monkeys felt safe and began to come out in numbers."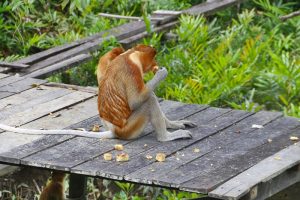 By that time, Lee had constructed a building and observation balcony there as well as low feeding platforms for the primates to dine on.
"We are still feeding the primates, although it is more like a supplement for them. Not everyone come to feed at the platform. We may see about thirty or forty  coming to the platform and eat. Sometimes more, but not all of them come. So, it's more of a supplement for their natural food. There are four feeding hours  for them and for visitors to see. Feeding time are 9.30am and 2.30pm at platform A, and 11.30am and 4.30pm at platform B. Both the platforms are located 1.1-kilometre apart."
The proboscis monkeys are not the only group to enjoy the sanctuary though; there are dozens of silver langur famously known as 'David Beckham' (England football player) due to its spiky hairstyle.
"The silver langurs actually follow the proboscis monkeys to the feeding platform so we give them long beans, a supplement to keep them healthy," Lee said.
In fact, during my visit they were languishing on the floor of the lookout area, sitting on tables and shelves as well as on the balustrades. They were not shy at all. A baby was seen running from one adult to the other.
Other primates spotted include the pig-tailed macaque and long-tailed macaque.
The orang utans saunter by sometimes to look for ripe fruits, he added.
Labuk Bay is quite famous among tourists, both domestic and foreign, as I could see tourists milling around during feeding time.
Lee doesn't believe in resting on his laurel though; they purchased an additional 17-hectare land from a neighbouring landowner to ensure that these primates have ample place to stay.
"The owner had cleared the land off Mangrove in the past to make way for their Oil Palm plantation. I believe the primates did visit this area once. So, what we will do is replant mangrove on the land. Hopefully when the mangrove grows, the wildlife will return," he shared.
He is also very keen to get volunteers to plant mangrove in the piece of land  and hoped that there would takers, especially among school children, as it could be very educational for them.
"It will enable them to learn about conservation as well as acquire knowledge on the main function of the mangrove swamps," he said.
For those who wish to plant mangrove trees, or watch the primates feeding, they can also stay overnight as there are six units of timber chalets with air-conditioning that can fit between 20 and 30 persons as well as two dormitories that can cater for up to 40-60 people.
To get there, travel to Samawang Village at Labuk Bay, Sandakan; it is 38km away from the airport and takes about an hour to get there. Or drive from Kota Kinabalu the State Capital. It is about 302 kilometres away and will take six hours drive. More information can be acquired from 089 672 133.-AV/BNN