Families  who love to dine together bond better than those who don't. This is just an opinion of course, but it is always nice to eat together. The dining room in the house is almost always the best place to do this. However at times, families want to sample food outside of their home, where they don't need to wash up afterwards.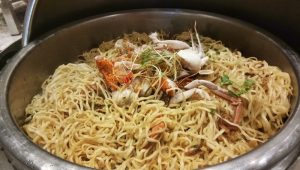 In Kota Kinabalu, there is no dearth of good restaurants. One can chance upon one by just walking around the city.
One of the most comfortable place to eat dinner is Mercato, at Avangio Hotel Kota Kinabalu sited at Kolombong, Inanam.
Presently, they are offering buffet dinner to diners, from Monday to Saturday, where an array of delectable food are all ready to titillate the palate.
Sous chef Jamal Uloh shared that there are about 13 types of dishes available at any one time, mostly Asian food. This includes soup such as soto, fish maw and mushroom soup among others. They alternate periodically, he said.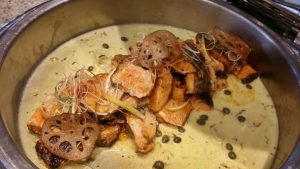 "Our dishes include chicken cooked in various ways as well as beef and mutton," he shared adding that one of the most sought after is the oxtail.
They are also promoting nasi lemak, with its own special side dishes. This is well sought after by foreigners as it is a Malaysian signature dish, according to him.
He said diners should come and sample dishes such as  Herb Infuse Beef, Fish Fillet with Hot Garlic Sauce, Kung Pao Chicken and Beef Opa among others.
"For every four diners, we give one free meal to number five. Meaning to say, if you bring four friends to dine here, you will dine for free. But this is only for adult diners," he shared.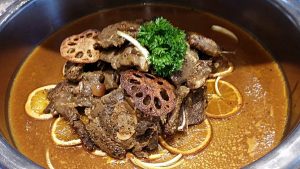 Dining in Mercato is comfortable. The tables and setting are placed comfortably with elbow room, so one does not jostle the next diner. The food are well placed, so that one does not have to go a whole big round to see all the food.
Buffet dinner is from Monday to Saturday, starting from 6.30pm to 10pm. It cost RM45 nett per adult and RM36 nett per child aged 12 to six years old.
Diners who wish to have their meals here are well assured about parking as the metro town has lots of parking area. Have your dinner at Mercato Restaurant and enjoy a comfortable evening with your family and loved ones.-ce/BNN