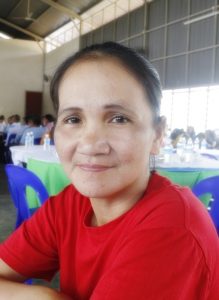 The Prosperous Mini Estate (Mesej) programme can ensure the well-being of the  impoverished. It must be stated here, however, that there are many Mesej participants struggling in their daily life to make ends meet.
When the Government implemented Mesej, the people were quite eager to participate in it and many joined in the programme. However, plantations implemented under the project needed time to grow before they are ready for tapping or harvesting.
Within the years waiting for the project to actually take off, participants had to do something else to survive.
One such participant is Huyang Rambus, 46, who lives in Kg Ulu Patian Dua, Tenom. She is one of the 66 rubber plantation participants under the Mesej programme.
This mother of six children is presently trying as hard as she can to make ends meet. She plants a little bit of vegetables and chili and send them to sell in town when she can. As the road to her village is not sealed, it is difficult to travel in and vehicles are scarce. All the villagers are not well off, which is an understatement, and very few own a car, if any.
"It is even difficult for our children to go to school every day. They go to SK Kemabong , which is about six kilometres from our village," she shared, adding that secondary school students go to another school nearby.
According to her, the villagers had build huts behind the school for their children to stay in during the week. On Friday the parents will come and take them home.
"There is no help for it. We don't have transportation to send our children to school every day. They cannot walk to school every day either, so we just had to build them a hut to stay in.  We supply them food for a week, at least. They usually come home on Friday and return to school on Sunday."
She shared that this actually made their children more independent and resilient as well as instill in them a sense of togetherness. However, she still wishes they came home every day. However, their financial condition makes them incapable of doing such, she said.
The rubber trees under Mesej can be tapped next year, she said and she hoped that their financial situation will be elevated then.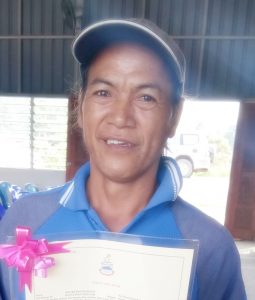 "We also hope that we will have electricity and not depend on the generator so much.  We are also depending on gravity water, which will go dry during the sunny season. We hope that this will be looked into by the government. We also hope that the road will be sealed to allow easy access to town."
Anjuin Kayu, 53, echoed her sentiments and voiced out that his family is also struggling to make ends meet.  This father of five said he has to scour the jungle to harvest Tuhau (Etlingera Coccinea) and bamboo shoots to sell to earn some money for his family. He also plant hill paddy.
He said he is also waiting for the Mesej programme to take off, hopefully, by next year.
"We hope that by then we will be able to ease our burden," he shared. He also hoped that the road condition will be improved and they will get electricity as well as clean water supply.
Angkunis Mangku, 48, father to five children from Kg Patian tengah, shared that he is tapping his own trees in his rubber plantation presently.
"I have a couple of acres to tap. They are old trees but that's all I can do to make ends meet. I really hope that we will be tapping the Mesej rubber trees in 18 months, Meanwhile, we will just try our very best to survive, as usual," he said.
He shared that he manages to bring home RM200 a month from tapping rubber. It is not enough to give his family a comfortable way of life but at least he can put food on the table.
Participants in the Mesej in that area are given houses to stay in and he is grateful for that. However he shared that there is still no ceiling and no fan, so the house is quite stuffy.
"Luckily, there are some air vents high on the wall," he said.
Sabah's Rural Development Minister Datuk Ewon Benedict visited them recently and spoke to them at length on the advantage of Mesej.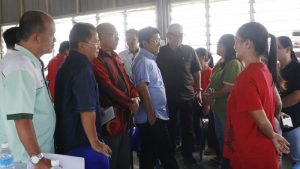 The programme is actually aimed at providing homes to participants with basic amenities such as electricity, water supply and roads, according to him.
He also announced assistance for the participants for 18 months, until they can tap the rubber trees under Mesej, and earn a livelihood.-ce/BNN