There are many tourism products in Sabah that can be promoted actively to guests and visitors in the State. In fact, there are so many to sights and sites to see, visit and experience in the state that one can be spoiled for choice.
As expected, most tourists want to see as much of the State as possible, including the people, their culture and tradition, their food and way of life. Experiencing all these can be near impossible, unless one stay in the State for at least a month; but for those who are only here for a couple of weeks, they will have to forego some of these experiences.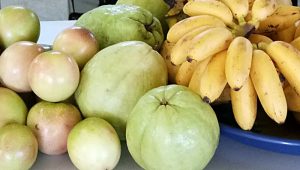 For those who wish to glimpse the people's way of life and savour their hospitality they should visit Tenom and stay in Padas Farmstay in Kg Paal Tenom.
The  Farmstay according to its reception personnel and tour guide Brian Tham, is family focused and aimed mainly as an agricultural area. However with the demand by guests and tourists to experience farmstay, they had opened up accommodation for visitors in that working farm.
The farm offers opportunities for guests to feed and tend animals, such as goats. These animals are really cute and cuddly. They actually don't mind being picked up. Other farm animals that can be seen in the farm are chicken, ducks and turkeys. One wonders if they can be cuddled too, but they are interesting farm animals to observe.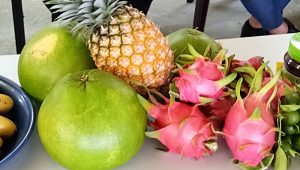 The farm also has a vast orchard, and guests can enjoy picking fruits, especially during the fruit season. Fruit trees include guava, pamelos, bananas,  langsat and rambutan.
Other fruits include pineapple, dragon fruits and passion fruit as well as calamansi or asam kesturi. Guests can enjoy plucking these fruits and tasting them. The farmstay kitchen staff will cook food plants that are available in the farm. This way, they get to taste authentic farm produce.
For those who want to enjoy the forest around the farm, they can go trekking. An in-house guide will go with them to show the area. They can hope to see a gigantic tree first hand. This is a mini trek however and won't take the whole day, but it is informative all the same.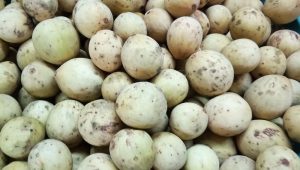 This farmstay is family run, and had been in that area for a long time, but has only recently opened its gates to tourists. The 16 acres farm welcomed its first batch of guests in 2013.
"The farm have dorm rooms that can accommodate between 60 to 70 people," Brian shared adding that they do of course cater to smaller group of people, with a minimum of 10.
On another note, Brian shared that the farmstay, which is the first one of its kind in Tenom contributes to the tourism attraction in Tenom.  The beauty of the culture and tradition of the people in Tenom can be tapped and be incorporated into the farmstay's tourism efforts.
The farmstay have won an award 'Rural Tourism' from the Sabah Tourism Board and is all set to keep on improving its services as well as the farm in the near future. Its owner Tham Yau Siong had shared that they needed better roads into the village.
During a recent visit by the Minister of Rural Development Datuk Ewon Benedict, he had shared his aspiration in promoting tourism in Tenom through farmstay. The minister had been receptive to his idea and later visited the farmstay's Musang King Durian project.
Actually, this farmstay is promoting agritourism, where agriculture is promoted in an interactive way. It is also ecotourism as it is a stay in an area where the environment is taken care of and benefits the local populace. It is also geotourism, where the environment, culture and tradition of the people are taken into consideration.
For those who want to stay in Padas Homestay for at least a night, don't hesitate to call 088 232821 or 238702 for more information.-ce/BNN