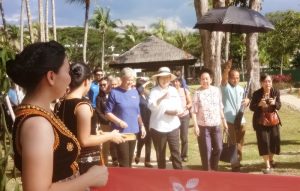 The Shangri-la's Rasa Ria Resort and Spa, sited at a scenic beach at Pantai Dalit Tuaran is well known for its tranquil ambiance, where guests can hope to have a complete rest from the hustle and bustle of the city.
One can sit at the beach and relax, enjoying the sounds of waves crashing at the beach or watch a beautiful blazing sunset in the horizon as evening falls. One can also enjoy the the coolness of the swimming pool, even under the warm tropical sun.
Guests can also stay in and enjoy the accommodations, comprising 326 comfortable and well-appointed  guestrooms and 173 Ocean Wing's rooms. The Ocean Wing rooms are spacious and a treat to be in. The pool is just nearby and one can splash around to one's hearts content.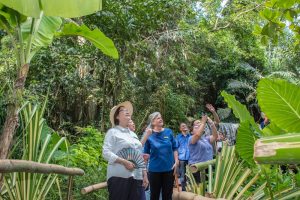 The Resort has five restaurants and two bars ready to serve guests. The variety of food is good and allowing long term guests very good choices.
Rasa Ria is sited on 400 acres of land with two Mangrove lined rivers on it.
Staying in this Resort is always a plus especially for nature lovers. There is a 64-acres area called Rasa Ria Reserve that will accord them a closer look at nature.  Guests can opt to go for nature trek in the area. They have six trails to choose from.
The choices are Adventure Trail at 4.8km, Canopy Trail at 3.6km, Entomology Trail at 1km, Herbal Trail at 3.6km,  Native Trail at 3.6km and Wildlife Trail at 4.6km. They can hope to see many and various kind of wildlife there, including  pangolins, slow loris and about 100 species of butterflies, among others. Besides the blazing sunsets, nature and its wildlife can be a photography buff's haven.
It must be mentioned that they have a summit platform  called Ria Lookout that can enable guests to view the scenic panorama around, including the famous Mt Kinabalu in the distance.
Recently, the Minister of Tourism and Environment cum Deputy Chief Minister Datuk Christina Liew came to officiate the opening of the Rasa Ria Reserve. During the event she commended the move, saying that it allowed guests to enjoy luxury accommodations and nature in its stark beauty.
She hoped that the Resort would continue to learn more and appreciate its focus on conservation.
The Resort General Manager Fiona Hagan thanked the Sabah Parks for their collaboration on providing exhibits and taxidermy on display at the Discovery Center.  She also voiced her appreciation to the local authorities in Tuaran, the Tourism Boards and local partners for their constant support.
For those who wished to enjoy Rasa Ria Resort and it relaxed ambiance and also get up close and personal with nature, they can call 088 796850 for more information.-ce/BNN