Ming Garden Hotel and Residence one of the newer establishment in Kota Kinabalu City, the State Capital of Sabah is an establishment that adheres to services that are necessary in ensuring return guests.
The friendliness and welcoming atmosphere of the establishment are evident when one walks into the hotel lobby. The first impression can determine the type of place one is staying in. Of course, the first contact is the doorman and bellman, and then the receptions.
Ming Garden's receptionists are well trained and they communicate their welcome, in words with a smile. They seem genuinely happy to welcome their guests even though they are very busy. The check in is smooth and fast, and not intrusive.
According to Marketing Communication-cum-Membership Manager Shauntay Dawn
Chong they are well trained in their job and have to be on their toes to ensure that services are impeccable.
This is to ensure that the property comprising a total of 600 rooms with 244 hotel rooms and 356 residence rooms are inhabited by guests as much as possible. Warmth and friendliness from the front-liners are always important to complement their well appointed rooms, she shared.
Guests can have a choice of staying in the residence which are made up of apartment style units with choices of one bedroom units comprising of a single bed with living area and two bedroom units comprising of a master bedroom with guestroom, living area, dining area and kitchen.
"The residence rate is RM450 and above per day depending on the occupancy, but for those who stay longer, they may enjoy special rates. Corporate clients and civil servants are also entitled to special rates," she said.
Other types of rooms available in the hotel are superior, deluxe, premier and executive suites. These rooms are tastefully furnished and comfortable which ensure that guests feel at home and they are indeed well taken care of.
Of course guests expect to have good food. They don't have to go too far, as the Golden Dew Bistro is just at the hotel level 1. It operates from 6.30am to 10.30pm.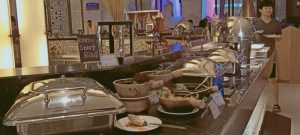 As for food, long time guests will not get bored with the choices of food offered.  At Golden Dew, the guests will be spoiled for choices during dinner as the restaurant offers themed buffet throughout the week.
For instance Korean and Chinese foods will be served on Monday; Tuesday (Mongolian and Arabian); Wednesday (Indonesian and Japanese); Thursday (Malaysian and Mexican); Friday (Italian and French); Saturday (Sabahan and Indian) and Sunday (international and barbecue).
The restaurant opens from 6.30am to 10.30pm and can seat up to 250 people at any one time. They can also accomodate more guests when required as they can seat diners in the private room one and two as well as Rainforest Atrium. This can accomodate some 400 people.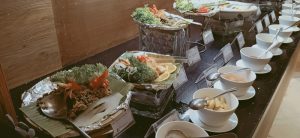 "We have high tea but it is not like English high tea, instead we feature Malaysian cuisines, not scones. We serve satay, roti jala, ketupat and others. We start at 12 noon together with lunch until 4pm," she said.
Guests who wish to let down their hair for the evening can do well by visiting  the Sparks Fun Pub. They can dance to the beat of a repertoire of songs by a local live band that performs every Tuesday to Sunday from 9.30pm to 1am .
"For those we want to showcase their dancing prowess on the dance floor, they can do so every Monday where a deejay will spin dance-worthy music to gyrate to.  Those who want to sing their hearts out can also try our karaoke session," Shauntay said.
Besides that guests also have access to a convenient retail shop, swimming pool at level four and children room. There is also a fitness centre for their in-house guests and it is open to the public who want to rent the place for practice purposes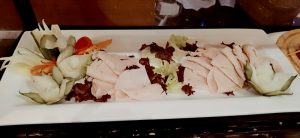 Zumba and yoga exercises are conducted at the fitness centre on Wednesday and Friday, and again the public are welcomed.  For those who wish to try their hands on games they can visit the  Shaba Chess Room which features the state-of-the-art electronic mahjong table, chess, checkers, playing cards and assorted family games.
Ming Garden and Residence is indeed attempting its utmost best to serve their guests well. Those who wish to sample their hospitality and what they have to offer  may call +6088528888 or surf www.minggardenhotel.com for more information.- ce/BNN