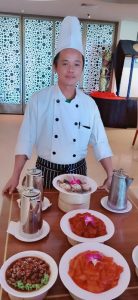 Restaurants have always played an essential role in the hotel industry, where most hotels offer dining outlets within its premises. This is to ensure that guests are able to acquire food without going out of the hotel. They will then avoid the hassle of having to get transportation to another area. Most guests especially during the first few days of their stay, want to enjoy the hotel facilities which includes the restaurant.
Having a good restaurant within the hotel premises is also important to the hotel in so much as business is concerned. It must be remembered that many activities and even some events of life are held in restaurants. Friendship can be forged, families can bond and business alliances can be formed in the safe and controlled environment of a restaurant.
Of course a cozy and comfortable ambiance are well and fine, but the food matters too. At Ming Garden Hotel and Residence's Golden Dew Bistro food is also of utmost importance. To make sure that their guests are not treated to the same fare everyday, they ensure that dinner at least has different fares everyday throughout the week.
On Mondays,  Korean and Chinese foods will be served, Tuesdays is Mongolian
and Arabian, while on Wednesdays Indonesian and Japanese food are served. On  Thursdays Malaysian and Mexican food will be served while on Friday diners will enjoy Italian and French food. Those who wish to sample Sabahan and Indian food can do so on Saturdays while  Sundays will see international and barbecued food being served.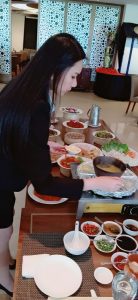 As of November, they introduced the hot pot in the restaurant. This Chinese fondue of stew consist of  a simmering soup at the centre of the table. Ingredients such as thinly sliced meat, leafy vegetables, mushrooms, and seafood as well as noodles are then placed in the pot and cooked at the table. The items are then eaten with dipping sauce. They can also be fried outside of the pot, where frying plates are placed. There are pre-cooked items ready for consumption too, a personal favourite being boiled nuts.
Chef Koh Keng Fui shares that hot pot is a delicious alternative in food. The ingredients are fresh and eaten almost without additives. It is also well known in most part of the ASEAN countries including Korea and China.
This serves the Hotel too, as their guests are mostly Chinese and Koreans as well as Malaysians and Bruneians. They are familiar with Hot pot. Chinese and Koreans guests love the familiarity of the food and thus the response for hot pot is encouraging, Chef Koh shares.
This Chef who has 27 years of culinary experience shares that where hot pot is concerned,  communal dining is central to Chinese culture and it enhances friendship, togetherness and comradeship among diners. This is especially true for families.
"It's a good way to get people to sit  around the table and chat," he shares. One can go and eat hot pot with colleagues after work or with family members for a birthday bash for instance. There is always a small crowd, as hot pot is something that you cannot dine alone.
The restaurant  have a seating capacity for 250 people, so hot pot diners are assured of a table or tables for their gathering.

"If there is a party, and more seats are required, private room one and two as well as Rainforest Atrium which can be opened up to cater up to 400 people," this  Chinese culinary expert who hails from Kota Kinabalu, shares.

Chef Koh has hundreds of recipes that he had garnered through his years as a cook. He shares that he cannot remember them all but believes that cooking is an evolving art. On whether he will ever publish his recipes in a book for public consumption, he says that he hasn't given it a thought.

On his job, he says that it is a vocation and not a mere job, as he has to have passion and commitment to it or else he will not  be able to handle the tremendous pressure of the job. He advises young people who wish to take up this career to look into it seriously and take up the challenges with dedication.

"It is a worthwhile and feasible career, when taken seriously," he stresses.

To sample Chef Koh's hot pot, call +6088528888 for reservations and information.-ce/BNN