Patrick Lau General Manager of The Ming Garden Hotel and Residences is responsible for the hotel's  operations  in every aspects including staff management and guests. He stands as an ambassador to the hotel, provide leadership through examples and strategic plannings for all the departments. He works very closely with the upper management and stakeholders of the hotel.
He is well equipped as he started from the bottom in the industry. He was a busboy when he first started in the industry in 1976. He was 19 years old when he started in the Hyatt in Hong Kong, those many years ago.
For the uninitiated, Busboys are those who clear and reset tables for restaurant customers. They clean up after guests and then prepare place settings, restock napkins, straws, and other items on the table. They also wash dishes.
Lau rose up in the ranks rapidly, due to his perseverance and tenacity. He believes that if one tried hard enough, they can reach as high up as they want. They only have to work hard, he shares.
"I believe its also the level of comfort one has in the position. If you are happy and comfortable after a certain rank in your job, then you are stuck there. It wouldn't matter either because you are happy where you are," he shares.
For him though, he wants to challenge his capabilities and prove to himself that he can do better and achieve as high as he want to.  He therefore has a low tolerance for people who are half-hearted in carrying out their duties.
He is responsible for the Hotels management team and ensure guests satisfaction. In this respect, coming to Sabah and working in Ming Garden Hotel and Residence was a challenge two and a half years ago.
Since his posting to Sabah, Lau has moved his team to improve the hardware and software of the hotel. His strategies had ensured improvements and he believes that they will continue to improve through the months ahead.
"I am pleased to notice that our software and attitude have improved tremendously in recent years where the staff devotion in their job has been encouraging although there are still room for improvement," Lau said.
Under his leadership and through the staff's dedication and enthusiasm, the Hotel won the Sabah Tourism Board's Excellence in Services Award for the 3 to 4-star category in December 2017 and the AGODA Golden Circle Award in February 2018.
Other accolades won by the hotel included the Best of Blue Fellowship Award for Outstanding Hotel Partner-4-star category and Best of Malaysia Award for Best Service Residence on October 2014.
During the 17th Sabah Hospitality Fiesta 2014 they were overall champion for professional category with six gold, one silver and one bronze medals as well as secured four diplomas.
On guests of the Ming Garden, he shares the Koreans and Chinese are the main bulk of their check-ins. They are also tapping the Japanese market and he hopes that they will be coming into Ming soon.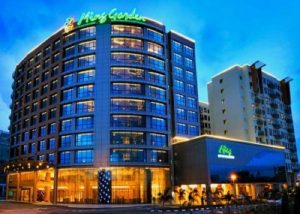 Recalling his first impression of laid-back Kota Kinabalu, Lau said, it is a good place to enjoy and retire. He says it felt like Manila, Philippines due to the presence of the Filipino markets. He says the city is a beautiful place, very laid-back and relaxed but he also believes that there is room for improvement.
"I will recommend people to come to Sabah for their holidays when I go back to Hong Kong. It is a good place for them to enjoy a relaxing holiday," he shares.
The hotel have a total of 600 rooms with 244 hotel and 356 residence rooms.The residence is an apartment style unit with a choice of one bedroom (single bed with living area) and two bedrooms (master bedroom with guestroom, living area, dining area and kitchen)
The type of rooms available in the hotel are superior, deluxe, premier and executive suite as well as a presidential suite. There are five restaurants, Rosewood Lounge, Rainforest Atrium, Sparks Fun Pub, Pool Bar and Golden Dew Bistro. -ce/BNN