Staying in Homestays can be an experience of a life time. This is especially true when one is visiting a place for the first time. The people's way of life can be interesting and their culture and tradition can look exotic. Their food can be a remarkable experience too.
However, most children accompanying their parents to homestays may find it a little overwhelming and not that interesting. They will want to do something fun and exciting on their own level.
For guests of  Kg Sunsuron Homestay in Tambunan, they can visit a nice bunny farm where children can have their fun. They can feed the fluffy rabbits and cuddle them if they are lucky. It's a beautiful place on a hillside, just near the jungle and the atmosphere is conducive for children
The rabbit 'houses' are prettily painted which brings the hobbit (Lord of the Rings) homes to mind. The rabbits' homes are a little smaller, but one will have a feeling for it. The Rabbit Farm in Tambunan is owned by Adam Jaafar Musa.
He shared that the farm was opened to the public in February 2019. He first started with two rabbits and took care of them carefully.  He has 170 rabbits presently and hopes that he will have at least 250 rabbits in future.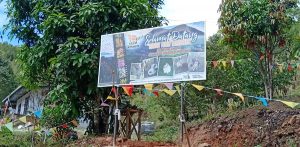 "After we have 250 rabbits, we will sell the rest. I must say, we are not a garden. We are a farm but we are also breeding rabbits for children to touch and play with," he shared.
He said the site is now open to the public where adults pay RM5 and children pay RM2.50 to come in and play with the cute rabbits.
His site is on a slope known as Bungkod Hill which can be seen from the main road towards Tambunan township. He said they will also develop a track in the jungle for the people who love jungle trekking.
His spouse Bibiana Peter shared that she will also be looking at working with sick children who may benefit from a visit to the rabbit farm.
"We will look into working with the Palliative patients too," she shared, adding that they will also try to make the farm more easily accessible with the constructions of ramps and better parking areas.
Briefly, Tambunan  lies in the Interior Division of Sabah, Malaysian Borneo some 80 kilometres from Kota Kinabalu, the State Capital. Its main township is also called Tambunan and quite well known for its rustic atmosphere.
Sited on a valley, over the Crocker Range it is surrounded by terraced paddy fields, clusters of villages and forests of bamboos. The rural atmosphere with the green hills and mountains are soothing sights that makes for relaxation. Because it's a valley and there is very little hill cutting and deforestation around, Tambunan has a mild tropical weather all year long. In the evenings the temperature can go down to a comfortable 19 degrees celcus.
More information can be acquired from Bibiana at 0146792148.-ce/BNN