Food is a physical necessity and so we all eat everyday.  However when on a visit to another area, dining can be a problem especially during a first visit. Driving or walking around looking for a place to eat can be  irritating. Sometimes, the photos on the main board menu can also be deceptive. Pretty to look at but the taste is nothing to write home about.
The same can be said for Tenom township, some 145km or three hours drive away from Kota Kinabalu the State Capital. This township, which is being promoted as a tourism destination boasts a fast food restaurant but for the initiated nothing much in form of local food outlet.
There are actually many eateries in Tenom. In fact, one can be spoiled for choice. The food are all delectable with their own unique taste.

For breakfast, visit the Tenom Central Market's first floor food court. If you love the breakfast staples of noodles soup, stuffed taufu and coffee, get it there and you will have a good start to the day. The best part of the menu is the Pork egg rolls. You can have that on the noodles soup or dry noodles. This Hakka originated food item is made from eggs and mince meat. Tenom has the best 'chung kien'. So visit the first stall there run by Chin Chen Vui, who carried on the family business of making 'Chung Kien'.
If you simply love dim sums and don't want to miss your daily fare of these delectable items, visit Chang Tau Guan, who runs a coffee shop named  Nam Lee. He took over the shop from his father 20 years ago and now concentrates on making dim sums for his regular costumers. They are all handmade by Chang and his wife, and as such the taste have not changed since his father's time. Again, this is a great place to go for breakfast.
Restaurant Jaya is another eatery that should not be missed. It is run by Yong Lee Chung who still smoked his pork the traditional way, with charcoal.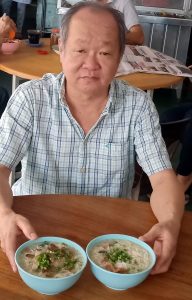 This maintains the smooth texture of the meat and the aroma is just mouth watering. He also serve noodles with dried soya bean curd. It makes for a mild tasting noodle soup with a distinct aroma of soya. Healthier than most of such offerings. Yong has been running the eatery for the last 20 years and he is proud of his offerings.
Another restaurant that should be visited is Eden Restaurant owned by Ng Kiok Siong, who is also the Tenom Chinese Chamber of Commerce (TCCC) president.
His restaurant which can seat up to 60 people offers tasty Chinese food ranging from noodles, rice and various types of dishes. He also offers economy rice, which is usually a plate of rice with three types of dishes on top. For those who want to have a fussy-free lunch, Eden restaurant is one of the best place to go.
The Chinese food in Tenom are almost all of Hakka origin, they are always served in big portion. Those who are visiting Tenom should look up these eateries. They usually open from 6am onward.-pr/BNN