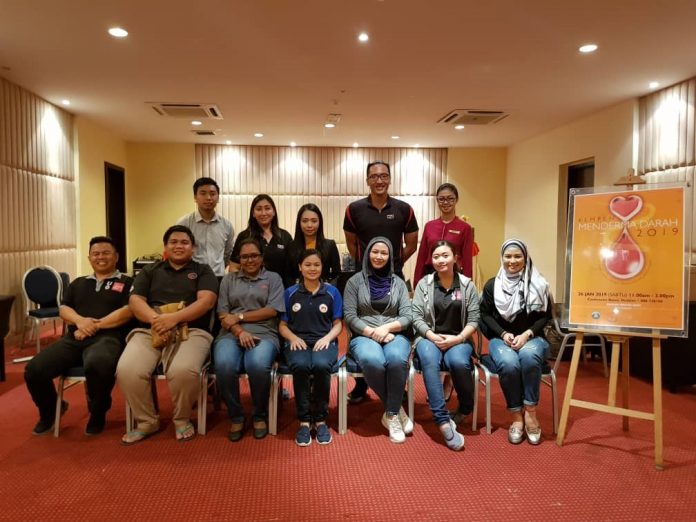 KOTA KINABALU: Venition, Penampang held a Blood Donation Drive together with Queen Elizabeth Hospital (QEH) Blood Bank at Venition function room, recently.
The blood donation drive was part of the management corporate social responsibility (CSR) and community activities aimed to support QEH Blood Bank to get as many volunteers from the public to donate blood to help patients in need of blood.
The organising event representative Noberta Francis said she was overwhelmed with the encouraging response from the public during the event.
"We received good and encouraging responses from the public and we are extremely pleased to raise the awareness of this drive to facilitate QEH Blood Bank. We hope in future that such activity will inspire more organisation to hold blood donation drive to support QEH Blood Bank."
"As all are aware, blood is a significant part of medical treatment where the demand for blood transfusion needed in most medical and surgical treatments," she stressed.
Meanwhile, QEH representative Dr Seethala Devi was pleased with the number of donors who came to register as it had exceeded the target participants. However some of the donors were not able to donate due to fatigue and blood pressure problem.
"We targeted at least 50 donors for this blood donation drive and 67 donors came to register;  we managed collect 36 pints from 36 successful donors," Seethala said.
Volunteers and donors registering for the blood donation drive Among those who have donated blood regularly was Chang Mui Len, 59, who has been donating since 1985 and Venition Blood Donation Drive was her 44th times.
She commented that, her purpose of donating blood was to save lives and it was good for health. Another regular donor was Oliver Shim Fun Khiong, 41, who had been donating blood since 2004 and this event was his 30th.
Those who have been donating blood regularly would benefit from KKM where donors who donated blood for one to five times would get a free outpatient treatment and medical treatment (excluding X-ray and surgical charges) and second-class wards for a period of 4 months. While those who donated over 50 times (for "Whole blood" donors) and over 150 times (for apheresis donors), would get a free outpatient and medical treatment as well as first class wards for 10 years and second-class wards after 10 years in first-class wards. More information can be acquired from  Pusat Darah Negara (PDN, www.pdn.gov.my.-pr/BNN