Meandering on an island even for a day is a dream to many, especially those who wish to get away from the hustle and bustle of life if only for a few hours.
If that is what one wants, just hop on a boat and visit the Gayana Marine Resort sited at Malohom Bay in Gaya Island. This a site that is ideal for a day getaway. You can walk around, take photographs and take in the beautiful scene of sea, sand and sun with the island around. You can sit on a deck chair and bask in the ocean breeze or dip your feet in sea water and watch how the sun rays play on the sparkling waves.
There is a day trip package available for those who wants to enjoy a day away from it all.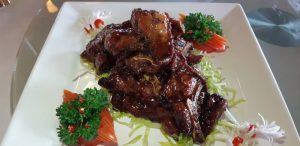 For RM130 per pax adult and RM90 per child at 4 to 11, you will cover the jetty fee and  scheduled boat transfers at Jesselton Point. You leave at 10.30am and upon arrival you will be treated to a video presentation and a tour of the Marine Ecology Research Centre (MERC).
You will be entitled to use a snorkeling set or kayak and go around for a while. After that you will have set Lunch at Alu–Alu Chinese Seafood Restaurant. The food there is sumptuous and healthy as they serve food from their own farm. You will return to Jesselton Point at 1.30pm.
If you opt to go in the afternoon, you leave at 1.30pm and return back to the Jesselton Point at 4pm.
So if you want a day off and sail off into an exotic location, well almost, try going to Gayana Marine Resort. You may like it so much that you may go back for a few more trips and a stay over. The beauty of nature and the ambiance of the surrounding can be a balm to the spirit.
Information can be acquired from 088 380390.-ce/BNN