Opportunities available to most of us are taken for granted. This include employment, transportation, sports and social activities and other aspects of life such as business opportunities to make a living.
People with disabilities, however, are severely impaired where these are concerned.  Choices are severely limited and they are barred from opportunities to better their lot. The changes in one's life for them are even more frightening when their disability is inflicted through mishaps.
For Azman Saidin, of Kg Baru Selaud Tuaran, he never had a choice as he was thrown into his condition through a mishap several years ago while working as a paramedic in Langkawi, Kedah. He is presently wheelchair bound although he could walk a few metres with a cane. To add to his hardship, he is a single parent with a young daughter; his wife having died in childbirth.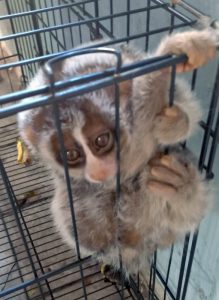 "It is difficult for me as I was earning well as a paramedic and when my life changed it was devastating as I no longer had an income.  I was thrown into this condition through the accident and suddenly I am a disabled person. But no matter what happened, I still have to support myself and my daughter as well as my aged father," he shared.
He thought of so many things to venture in and came up with the idea to establish a place for people to visit. The place he thought about was an animal petting place where tame animals could  be touched, petted and photographed by visitors.
"The animals include 50 rabbits of various breeds like Angora, Lion head and Jersey rabbit, among others," he said adding that they also have a monkey, a slow loris and tortoises.
Besides these animals, there are also plants such as orchids, a therapeutic plant and 'pokok ajaib' (Synsepalum dulcificum). They will be added on to as time goes on, according to Azman.
He is quite enterprising actually and cultivate mushrooms in his compound. He said guests can buy them from him when there are ready to harvest. They go for RM12 a kilo.
Having done that, Azman does not rest on his laurels; he is also extending a helping hand to others with disabilities.
"I have employed 10 disabled people to work with me. They are physically impaired but able to move around," he shared adding that they are staying with him in his house.
As for the future, he said that a jetty will be constructed near his house where the river flows. Keen anglers can try their rods there for RM25 inclusive of food.
"They can also bring their catch home as they are fishing in a river," he shared.
Azman expressed his hopes that the general public will come and visit them, not only to enjoy the place but also to lend a helping hand to the less fortunate.
This place is a good place to visit during one's free time or on weekends. The entry fee is RM6 for adults and RM4 for children. They open everyday except for Fridays.
For those who wish to visit Azman, they should call him at 014 3628585.-ce/BNN