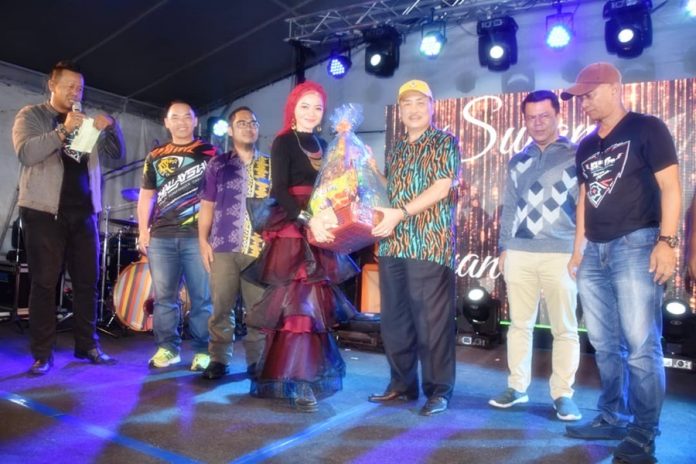 TUARAN: Sulaman Assemblyman, Datuk Seri Panglima Haji Hajiji Haji Noor, has urged the people, especially youth, in Tuaran to venture into entrepreneurship as a profession.
He said the field of entrepreneurship, if carried out with determination and honesty, can become a source of income for the youth.
"The youth in Tuaran needs to be bold to try and venture into the field of entrepreneurship, by doing a small scale business. It can be carried out either individually or in a group.
"The important thing is we should not feel shy to do a business, even if we start by selling banana fritters or opening a small stall," he said.
He said this when officiating the closing of the Tuaran Inspiration Youth Entrepreneur Carnival (KUBIT) 2019 at the Tuaran Futsal Arena, last night.
Hajiji said the business culture and values need to be cultivated and implanted among the youth generation, because entrepreneurship is a profession of most of the people.
According to him, the Government and private sector cannot provide job opportunities to all youth in this State.
"I encourage the people especially youth in Tuaran so they can venture into any kind of business, even if it is only a small scale.
"We see other races like the Chinese, even though half of them have a high level of education, they are more interested in doing business than working for others. This is because by doing business one can earn high income compared to those with a salaried job.
"These are noble values that I want to cultivate and implant among the youth in Tuaran," stressed Hajiji.
In conjunction with the coming of Ramadhan Month, he said he had discussed with the management of Tuaran Futsal Arena to not impose excessive rental fee on the Ramadhan Bazaar traders.
According to him, doing business at the Ramadhan Bazaar will be able to help in increasing family income in preparation for the Hari Raya Aidilfitri celebration.
Hajiji also thanked the organiser of KUBIT 2019, Hyrol Anuar and friends, for the success of the three-day carnival, particularly for the youth entrepreneurs.
The closing ceremony of KUBIT 2019 also featured the performances of artists Fairus Misran@ P.Ramlee and Lyn Tamsil – The Bank, as well as Sulaman Idol contest and lucky draws.pr/BNN