TUARAN: The Angkatan Bersatu Anak Muda (Armada) of Parti Pribumi Bersatu Malaysia (BERSATU) need to give focus on the agenda to uplift and strengthen the economy of the young people, said Sabah BERSATU Chief, Datuk Seri Panglima Haji Hajiji Haji Noor.
He said Armada, as an important wing of the party, is the best platform for the young people to voice their aspiration, apart from for showing their leadership talent.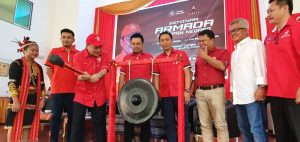 "Armada need to focus on the effort to strengthen and develop the economy of the people, especially the youth, instead of the irrelevant issues.
"We want Armada in Sabah, apart from assisting in boosting the party struggles, at the same time become a platform for assisting and guiding the young people in the aspects of economy and entrepreneurship," he said.
Hajiji said this at the closing of Seminar Armada Harapan Negara held at Linangkit Cultural Village hall in Kg Tutu, Selupoh, here yesterday (Aug 25).
The day-long seminar, the first of such in Sabah, was organised by Tuaran Armada and participated by 350 of its leaders and members.
Sabah BERSATU Armada Chief, Mohd Isquzawan Israq Arsit, Tuaran BERSATU Division Deputy Chief, Encik Abdul Kassim Razali, Tuaran BERSATU Armada Chief, Encik Mohd Ghazali Hajiji and other division leaders were also present.
Hajiji, who is also Sulaman State Assemblyman, stressed that the community wanted changes, and thus Armada need to do its duties and responsibilities the best possible to help change the fate and future of the young people.
"The economic aspect of the young people need to be strengthened and boosted because the future of the country depends on them.
"We need to forget issues that do not bring benefits like racial and religious issues. Such issues are not relevant in Sabah," he stressed.
He said one of the challenges faced by Armada is to attract the participation and support from young people those 18-year-olds who will be automatically be registered as a voter.
Meanwhile, when answering to a question from reporters, Hajiji said BERSATU as a Pakatan Harapan (PH) component party will give cooperation to the State Government which is led by Parti Warisan Sabah (Warisan) by giving focus on developing planning that will give benefits to the people of Sabah.
In conjunction with the event, Hajiji also received 910 membership application forms from young people in Tuaran, Tamparuli and Kiulu, which were presented by Mohd Ghazali.-pr/BNN