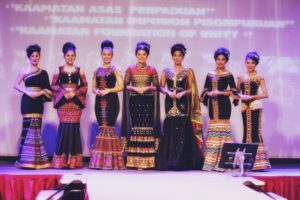 KOTA KINABALU:  Seven gowns have been chosen for the ' Most Creative Evening Gown based on Ethnic Concept'  during the 'Sodop Pointutunan' held on Saturday.
The gowns were mostly styled based on  traditional colours with very interesting additions and improvements.
Mostly black with gold trimmings, the designs chosen were modelled by Sharlina Mojinun representing Klang Valley, Gillian Gwyneth Henry of Lahad Datu,  Francesca Ester Nain of Kota Belud and Michelle George Minsul of Tenom, respectively. Also in the fray were Isabelle Lansing of Putatan,  Kerinah Mah of DBKK and Vanessa Claria of Tuaran.
These gowns will  be judged according to creativity and originality as well as comfort as the models must be able to wear them well.
"Judges will scrutinise the gowns to see that they are sewed satisfactorily and made appropriately;  no pasted on glitters," Joanna Kitingan had stressed during a press conference recently.
"The designs must incorporate the respective district's motifs based on the traditional costumes and accessories. It must be practical and elegant and can be worn with confidence in any event. It must not be too revealing."
The gowns will be showcased  during the 'Most Creative Evening Gown based on Ethnic Concept' event  to be held on May 29 at the KDCA building. The winners will be determined at that time.
The event will be graced by the KDM Paramount Leader Tan Sri Joseph Pairin Kitingan and his wife, Puan Sri Genevieve Kitingan, and the Head of State's Consort Toh Puan Hajah Norlida Tan Sri RM Jasni. –CE/BNN