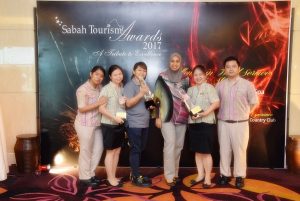 KOTA KINABALU: Shangri-La's Rasa Ria Resort & Spa received three awards at the 11th Sabah Tourism Awards 2017.
They were recipients of the "Excellence in Hotel Services – 5-Star", "BestOutlet – Hotel" for Naan, Flavours of India restaurant and "Best Golfing Experience" for Dalit Bay Golf & Country Club.
Officiated by Sabah Tourism, Culture and Environment minister YB Datuk Seri Panglima Masidi Manjun, the Sabah Tourism Awards was designed to honour individuals and organisations for their outstanding contributions to the development of the tourism industry in Sabah.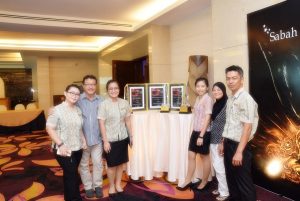 More than 50 nominees contested for 28 awards in 13 categories, thus winning three awards was an honour, said General Manager, Fiona Hagan
"The quality of service, courtesy and, most importantly, the desire to make every guest feel at home was the reasons for winning the 'Excellence in Hotel Services' Award," she said adding that the main driving force behind this recognition is the vision and mission that all employees share when it comes to maintaining the tradition of warm and friendly hospitality which Sabah is renowned for.
Hong Kong-based Shangri-La Hotels and Resorts currently operates over 100hotels with a room inventory of over 41,000. Shangri-La hotels are five-star deluxe properties featuring extensive luxury facilities and services. Shangri- La hotels are located in Australia, Canada, mainland China, Fiji, France, Hong Kong, India, Indonesia, Japan, Malaysia, Maldives, Mauritius, Mongolia, Myanmar, Philippines, Qatar, Singapore, Sri Lanka, Sultanate of Oman, Taiwan, Thailand, Turkey, the United Arab Emirates and the United Kingdom.
The group has a substantial development pipeline with upcoming projects in Australia, mainland China, Cambodia, Indonesia, Malaysia and Saudi Arabia.-pr/BNN