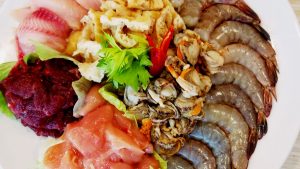 Valentine's Day is just a little than a day away. This annual festival to celebrate romantic love, friendship and admiration is held on 14 February. This is the time when people celebrate by sending messages of love and affection to partners, family and friends. Most couples will send Valentine's Day cards and flowers or chocolates to show their love for each other.
Valentine's Day celebrants also make merry with their whole family in this part of the world, as who else are more important than their partner, children, parents and grandparents. They are well beloved and thus deserved to be treated to a Valentine special. A nice dinner in a comfortable restaurant is highly recommended.
The Klagan Regency at 1Borneo offers a menu for steamboat meal that is fit for Valentine's Day revelers. Dubbed Sensational Steamboat, they are serving four types of soup for the meal. These include congee, tom yam, chicken and pumpkin.

Their simmering soup's ingredients include thinly sliced beef, chicken, mushrooms, vegetables and various types of seafood as well as noodles. The cooked food is usually eaten with dipping sauce which includes soya sauce with chili and chili paste. The menu comes with Calamansi juice and rice. Additional ingredients are available, with cost of course.
Priced at RM49 for adult and 50 percent less for senior citizens (60 years and above) as well as children five to 12 years old, it is actually value for money. With the cool and relaxed ambiance, it is a definite plus.
As for Libaran Café, it is an outlet with a spacious layout. The dining tables are so well arranged that there is no overcrowding. The whole area can seat about 180 people at any one time. The establishment can accommodate more diners of course, as they have a huge function room. They only have to be informed beforehand.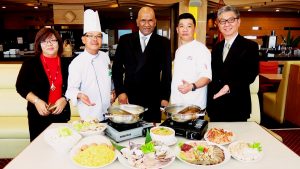 For those who wish to sample this offering, they can do so from February onwards. Diners can enjoy this menu for both lunch and dinner. Valentine's Day celebrants should give this a thought.
Call them at 088 529 888 for more informations.-BNN