The Roots is a new eatery in town that should be visited by food buffs and connoisseurs who wish to try the various taste of popular items.
Sited in Asia City Complex, they offer various dishes that could only be thought of as well tried and very popular all over the city.
The noodle menu  for the restaurant include Tom Yam and Laksa, two personal favourite, and of course Wantan and fish sauce noodles come next. These are local favourites that never fail to get ordered by diners. There are also fish head and braised meat noodles.
As for the rice section, they serve various types of dishes with rice. This include Hainanese Chicken rice, Sweet and sour chicken, fish, prawns and fish. They are all equally tasty, but their signature dish is actually the Nasi Lemak. The taste is superb, especially the sambal. Its hot but not too bitingly hot.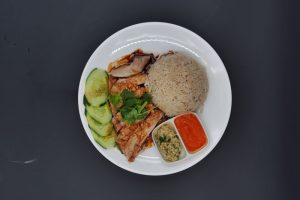 There are  30 dishes served here that are reminiscent of other eateries, but their taste are uniquely The Roots, as they have their own chef who rustles up the food for their customers. They also serve good coffee, picked especially from Singapore.
Ng Sau Pong, spokesperson for the eateries shared that they can accommodate up to 80 diners at any one time. They also cater to small functions, such as birthdays, gatherings and family dinners.
"However, we must be informed a week in advance so we can prepare for the function. Of course they will have their own tastes and theme, so we do  need time to prepare," she shared.
The eatery is open from 10am to 7pm.
Meanwhile, Vincent Ng the General manager of Complex A.C Management Sdn Bhd, which runs the complex said they established the eatery to create a better business environment in the building.
He said the eatery tremendous response from the public, including tenants and tourists.
He said Complex Asia City is in a strategic area for tourists, with Cititel and Hilton KK in close proximity as well as the various seafood restaurants available outside the complex.
"There are many eateries outside but not inside the building, so with the establishment of The Roots, they will have an objective of coming in and in return, meander around the other shops in the premises," Peter Liau, the Business Development Manager of AC Management.
The complex have various souvenir shops and handicraft stalls that could be of interest to tourists and local visitors as well.
So if you are in Asia City Complex today, don't forget to check The Roots out. You could well become a regular.-ce/BNN