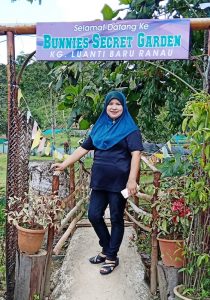 Most people stay in homestays for the benefit it provides to them. This include saving on lodging cost as homestays especially in Sabah, are quite economical. Of course it depends on the guests requirements as cost can accumulate according to demand. However, the cost will usually stay lower than hotels.
The most interesting and important part of staying in homestays is of course the experience of living with the locals and learning about the local norms, their way of life and other information about the host country that are not found in tourist guide handbooks.
Visitors to Ranau can enjoy this unique experience by staying in a homestay just nearby the Kg Luanti Fish Spa area. The Luanti Kampung Stay is just across the road.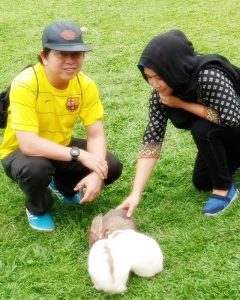 Spokesperson for the Kampung Stay Norhayati Assry shared that there are 14 chalets to choose from. The rooms are nicely furnished and quite airy. Some of them are equipped with air conditioning while others have ceiling fans. It's not too hot there and in the evenings the temperature can drop to less than 20 degrees celcus.
The chalets sports interesting architecture, with some shaped like the local conical hat (sirung), jars and even gongs.  The area around the chalets is nicely planted with various types of plants with vibrant flowers. In fact it is like a little 'fairy tale' circle.
Guests can sample local cuisines too, which in a way add on to their local experience. The food served includes fragrant hill rice, wild vegetables, fish from the river and pickled bambangan among others.
As for activities, guests can opt to visit the Kg Luanti Fish spa a few times, take a walk along the stalls and buy local fruits when in season or they can go fishing. There is a fish pond behind the chalets. They can bring back their catch after paying a small fee. They can even request for their catch to be cooked at the chalet's café.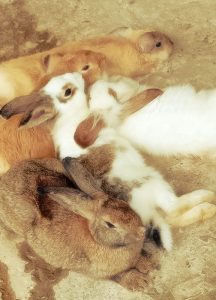 Children accompanying their parents to this area can have their own version of fun by visiting the Bunnies Secret Garden about five minute walking distance from the chalets.
This fun place has about 200 bunnies of various breeds, including Angora and Holland loop, shared owner Anastasia Majangki.
The garden is on two acres of land, beautifully landscaped with effigies of Snow White and the Seven Dwarves. There is a shelter there for rabbits, cages for sick rabbits and some of them roam the field just hopping around, much to the delight of visitors. Some of them can be cuddled too. This place is a delight to children.
"We will keep on upgrading this place as we go. We hope it can be a centre where people will make a point to visit and enjoy. We will build a restaurant nearby and repair our bridge. In future, there will be more rabbits too," she said.
Nowadays most of her visitors are Malaysians with some foreigners dropping by every now and then. She is very happy with the public response and  believe that it is a good place to visit especially for pupils who want to know more about rabbits.
Entrance into the garden is RM5 for adults and RM2 for children.
More information can be acquired from 01118539547.-ce/BNN