Tambunan District may not sound very touristic but one just have to visit the place to find out that it actually have a lot of sites to sight see. This district which  lies in the Interior Division of Sabah, Malaysian Borneo is sited some 80 kilometres from Kota Kinabalu, the State Capitol. Its main township is also called Tambunan and quite well known for its rustic atmosphere.
Sited on a valley, over the Crocker Range it is surrounded by terraced paddy fields, clusters of villages and forests of bamboos. The rural atmosphere with the green hills and mountains are soothing sights that makes for relaxation. Because it's a valley and there is very little hill cutting and deforestation around, Tambunan has a mild tropical weather all year long. In the evenings the temperature can go down to a comfortable 19 degrees celcus.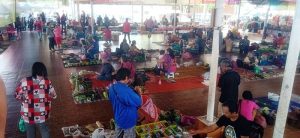 Visitors to Tambunan can enjoy the atmosphere and just relax in a rural ambiance.  There are plenty of places to visit actually especially where nature is concerned.
On Thursday, the quiet town turns vibrant at the local communities converge at this time to sell their wares. They usually sell wares that are not usually found in the everyday market so it's always to treat to meander and look at the varieties of agriculture produce they offer.
The tamu ground or weekly traditional market is the best place for them to meet their friends from other villages and catch up on their news. Of course this is also the best time for visitors to interact with the friendly locals and do a little bargaining.
There are plenty of things to buy there and some of the products are  synonymous with  Tambunan such as losun (spring onion), white chilies, garlic and white pepper, sometimes kelulut honey (stingless bees). During the fruit season, there will also be plenty of fruit available, including durian, langsat and rambutan as well as cempedak (Artocarpus integer) among others.
After visiting the tamu, lunch should be the next agenda and it is highly recommended for them to try  the food at Kondion Lepak Centre. They serve absolutely delicious local food. Eating their fare at the riverside of Pegalan River at Kampung Tabilung Baru is an absolute treat. The food however is non-halal.
Walking off the delicious food is highly recommended and what more appropriate then at the Stone Garden nearby. It is a quaint sight, under an imposing kapok tree (ceiba pentandra). The garden is peppered with many Zen-liked style stone stacking. It is supposed to be soothing to the mind.
One can then proceed to Batu Gong, at Kg Solibog. I have been to this site in 1995 when it was first found. The rocks are white in colour and have distinctive sounds when hit. One can play the traditional gong beat on it if one wants to. These stones were found by accident during an excavation at the nearby river and some children decided to hit it. The stones have been moved from its former place and now sheltered in a hut. Interesting sight with an interesting story behind it.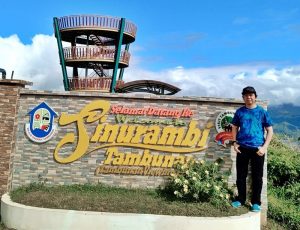 Before night fall, it is recommended that you watch the sunset from Bukit Cahaya, Kampung Lalapakon. One has to go by four wheel drive though, as it can be quite steep. It's worth visiting as one can see the villages below bathed by the awesome sunset.
According to Patrisha Kitingan, the President of Tambunan Tourism Association a Catholic's retreat centre will be constructed at the hill in near future and it will be one of the 15 stations for the way of the cross.
The next destination is 45-feet high Sinurambi Tower. The tower designed in a shape of a bamboo basket is another peak for the visitors to get a panoramic view of the town and also catch the early morning sunrise.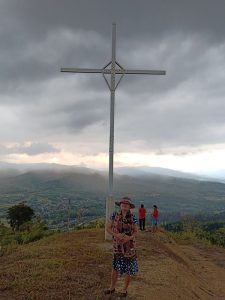 It is located 10 kilometres away from town and about 15-20 minutes-drive away. The breathtaking view is well worth the climb to the top tier of the tower.  During a clear fine weather,  Mount Kinabalu can be seen in the distance looking down at Trus Madi.
Indeed Tambunan is the place to go for a sojourn with nature in every sense of the word. Information can be acquired from Ellfy at 013 8723709.-ce/BNN