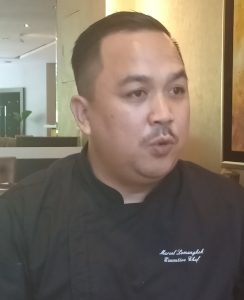 Serving good food and beverage is extremely important in any hotels as it allows guests to eat to their satisfaction. This is especially when the guests are busy throughout the day and may not have time to look around for a suitable eatery to dine in.
In The Palace Hotel Kota Kinabalu, the Tangerine is well equipped and prepared to cater to their many clients with their different needs. Executive Chef Marcel Lomangkok is ensuring that diners have a variety of food to choose from.
He is promoting his own brand of fusion food which include Chicken Balinese, roasted chicken thigh with salted egg sauce, lemon grass chicken and grilled fish. He also serve delicious spaghetti laksa pesto and the pizza is to die for.
So for those who wish to taste his concoction of food, visit The Palace Hotel and order from their daily lunch menu. The food offered are a fusion of Asian and western delicacies. Diners can also hope to sample Asian and Italian food at buffet every Friday.
Chef Marcel has worked in the Food and Beverage section in the hotel industry for 20 years. His experience include stints in Dubai and also as a consultant for those who want to open up a restaurant.
More information on dining in The Palace Hotel can be acquired from 088-217 222.-ce/BNN